The announcements (also called host messages) are sent from the hosts to the Q&A message board.
When your Q&A board is empty, as the host/presenter you will be prompted to kick start the conversation with your own message or use one of our suggested 'conversation starters'.
Announcements can be sent from any Vevox account including Free accounts.
To send your first message to the Q&A board, do the following:

When you are logged in, select Q&A from the navigation menu.

Put your cursor in the message box. A drop-down menu with conversation starter options will appear. Select the most appropriate one or alternatively type in your own host message or announcement.

Press the 'Arrow'. Your message will immediately be sent to participants devices and show in Present & PowerPoint view on a bright background. These messages can be set up before your session is started and will be viewed as soon as a participant log into the session.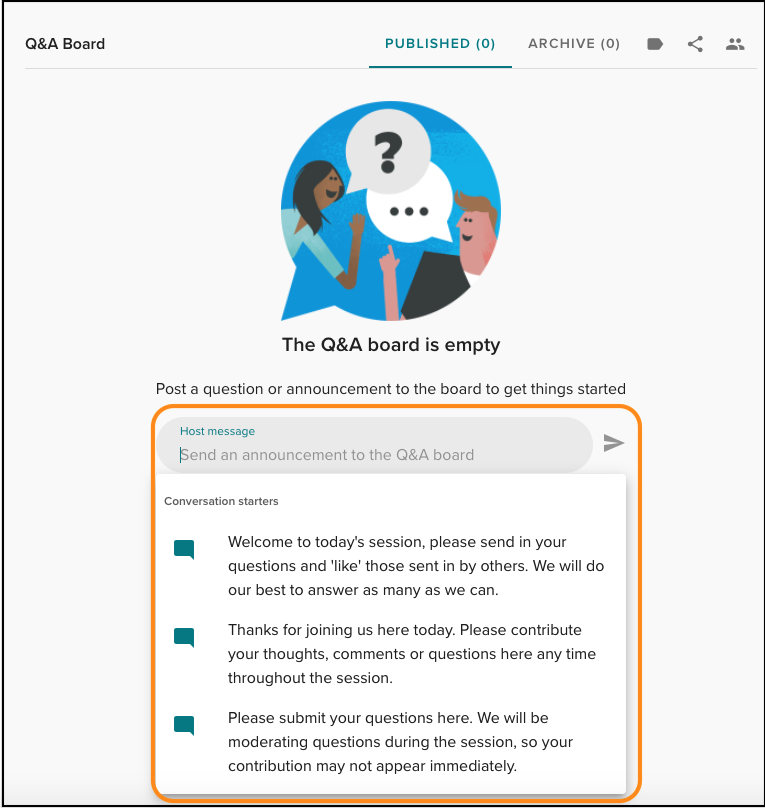 Moderation ON
When the 'Moderation ON' feature is selected, you can use the Q&A message board anytime and set up more announcements from any of the message lists:
Needs review

Reviewed

Published or

Archived

Moderation OFF
When the 'Moderation OFF' feature is selected, you can use the Q&A message board anytime and set up more announcements from any of the message lists: