In this article we cover:
What is a survey and how does it work?
Vevox's survey feature allows you to ask your audience, participants or students multiple questions that they can answer in their own time at their own pace and on their devices. Participants completing a survey can see how many questions they have answered and continue to edit or change their answers until the session host closes the survey. This will remove the survey from the app.
The survey feature works 'offline' as we call it. It does not have to be a live interaction. Participants or students can answer these questions after the session, or during a session but at their own pace.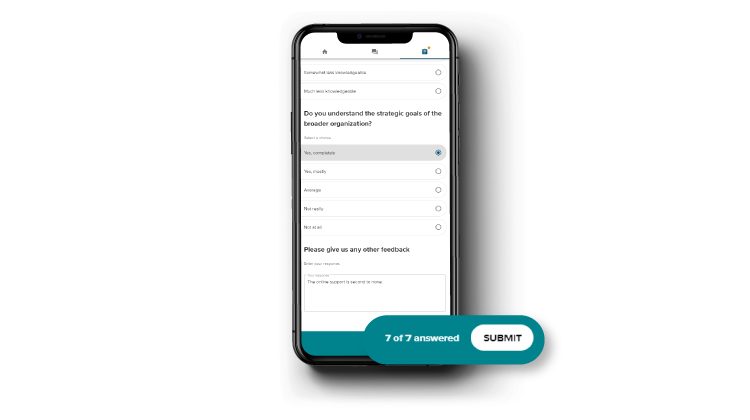 Surveys can be anonymous allowing you to get maximum feedback that is genuine and uninhibited. Alternatively, your participants can be identified.
All the results and data for surveys will be captured and available in the reporting afterward.
The survey feature is not available for Free accounts. If you wish to have access to surveys please
upgrade your account
.
Create your own bespoke survey or customize one of our ready-made templates. Vevox surveys can also be imported and exported from one session to another. This way you can make the most of your survey content without the need to setup questions from scratch again.
Self-paced quizzes are a new addition that you'll be able to find embedded in the surveys feature. These self-paced quizzes are great for formative assessment and providing an understanding of how students are faring in a specific subject area. Following completion of the quiz, students will be presented with a summary screen (as shown below), providing instant feedback & their score
Survey type questions also include the following polling types:
Using images in polls (including Pin on image as well as Multichoice on image.)
(Word cloud & XY plot polling is unavailable as it needs a live environment to function.)
Points to remember when setting up a survey:
Participants

will answer the surveys self-paced

and in their

own time.

Keep it short and simple – always.

(You can add unlimited questions per survey, but we strongly advise against it as participants will lose interest, and not complete the survey).

First, decide

what you

want from your data

and then decide on your questions

.

Decide on how you want to analyze the survey information. Do you want to use demographic or other profiling questions for cross-references? Keep it in mind when setting up your survey questions.

Duplicate your questions with the same scale to make it easier to set up your survey.

If you want participants to see correct answers when completing a survey you can set up a self-paced quiz. You can use the data reporting to determine the quiz scoring. Also use self-paced quizzes for post-lecture or post-online classes to assess understanding of the lesson

It is possible to leave the survey open once the meeting, class or session is over so you can gather feedback over a couple of days and do a post-class or session analysis.

Be prepared to implement the responses. Otherwise, why bother asking the questions?

A survey can stay open for as long as you need it. But see the information box below.
Depending on your Vevox plan, you will need to close the survey before you can launch another survey. But if you have a Pro/Institution account for Education or an Enterprise account for Bussiness you can run several surveys at the same time.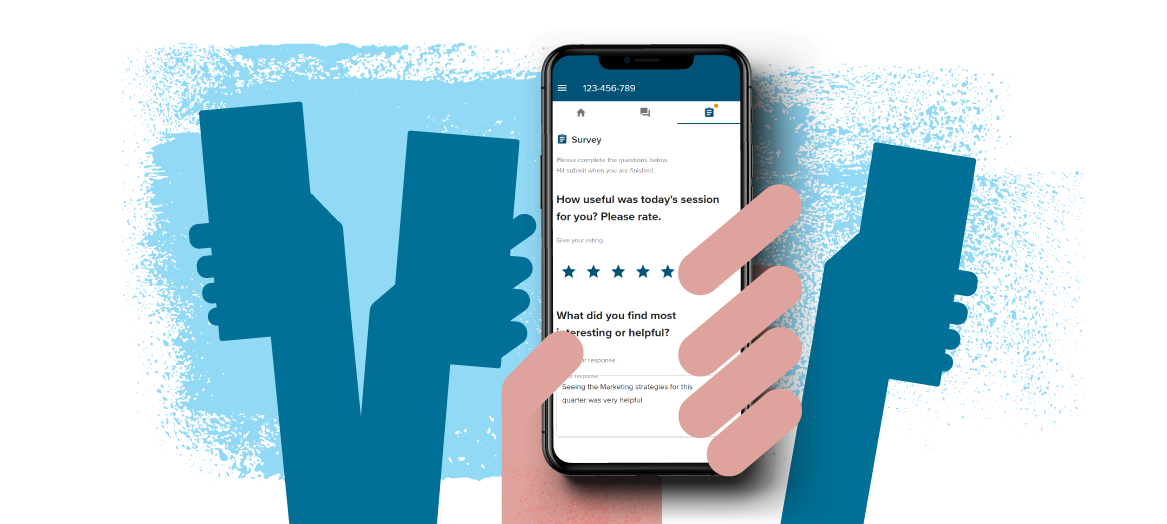 How to m
aximize the value of your data:
With the Vevox reporting functionality, you can do bespoke business intelligence or use Excel to dissect your data.

Use the sharable infographics as well as the 'Session analytics overview' for your feedback.

Use cross-tabulation

if asked

profile or demographic

response

s

. Don't ask too narrow profile questions

.

Keep your surveys consistent. Use the '

import surveys

' functionality so you

don't need to re

-

create the survey

from start

.

React quickly –

while the

data is still valuable

.

Timing –

request participants to fill in the survey towards the end of the meeting, session or class, to ensure relevant feedback.
Example of what a survey in the Vevox app will look like in a participant browser: