What Add-in are you using?
It could be that you closed your poll too soon before any participants voted and results were captured. Note that with the Office 365 Add-in, you only need to advance to the next slide- and the poll will open automatically. When you press the 'Enter' button again, it will close the poll and prepare the results before sharing the results in PowerPoint.
If you have closed your poll too quickly, read this article to see how to re-run your poll.
There can be two reasons why your results are not appearing:
1. If you are asking a Text poll, these answers won't display within the PowerPoint slide for all to see. This type of poll is only for data collection purposes. However, all the voting responses will appear in the data report that you can download after the session.
See the instructions that appear in red when you set up a Text poll.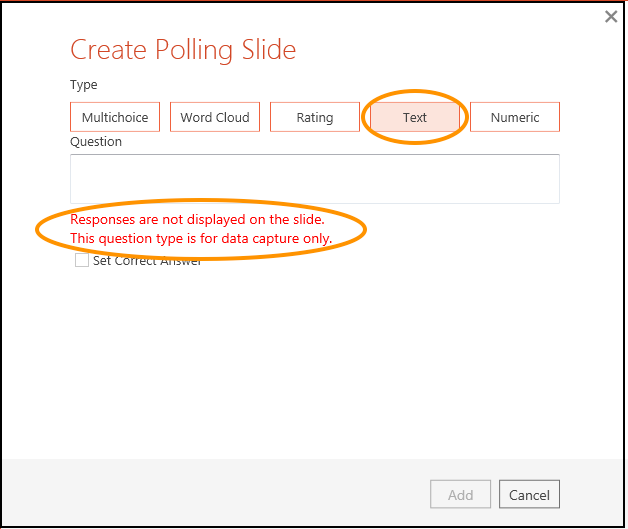 2. You might have unticked the 'Show Results' box in the Display options. The default setting is that all your polling results (except Text polls) will display in your PowerPoint slides, but you can manually override it.
Double-check that you have not unticked the box previously.
Also, note that if you have unticked the box in the Display Options and have copied that slide to create a new poll, the same setting will apply to the new poll. Make sure you select the 'Show Results' box to stop it from happening.