In this article we cover:
How do 

participants

 join a 

Vevox

 meeting or session

?
From your phone follow these three easy steps: 

 Open our web client straight from your browser at vevox.app, or if you are going to use us regularly download the Vevox app from your app store of choice. 

 Enter the 9-digit Session ID – your host or event organizer will supply this.  

 Press Join.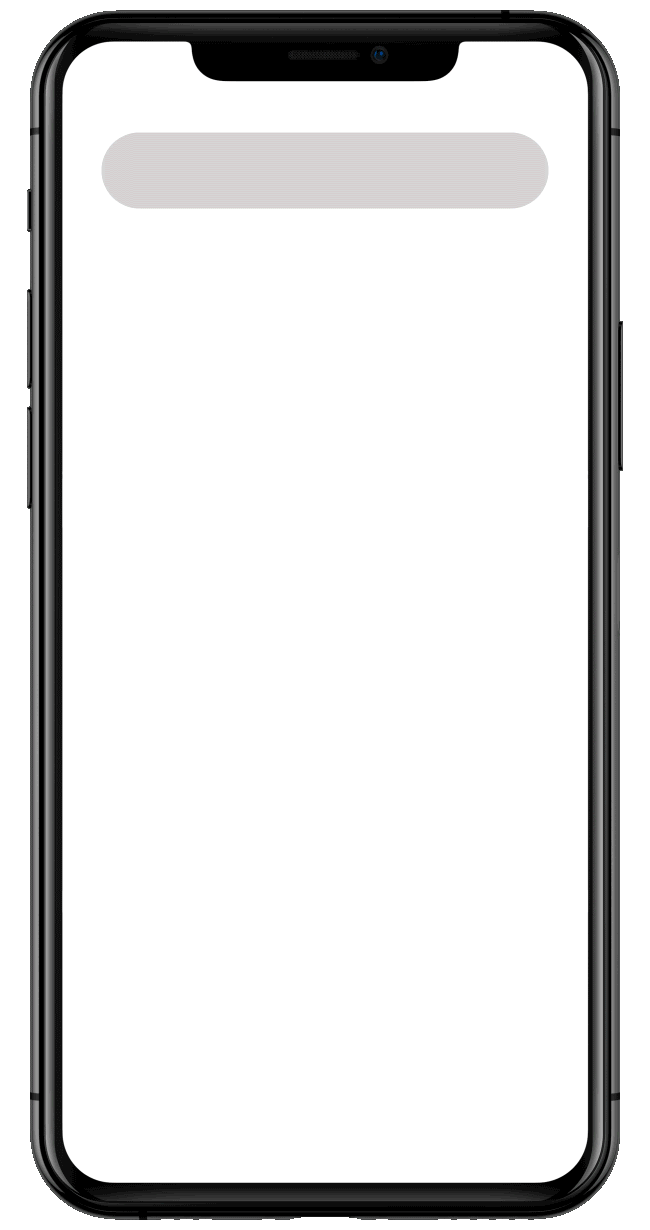 Alternatively, if there is a QR code, scan it with your mobile camera. You will be taken directly to the polling session.  
I am attending a 

Vevox

session. Do I need a

Vevox

 account

?

 
No. You do not need to sign up for a Vevox account if you are a participant. You only need to open your mobile browser, type in vevox.app and enter the 9-digit Session ID to join the session. If you are hosting the session and asking the polling questions, then you would need to sign up for a Vevox account. It is free. Follow this link for Vevox sign up.  
How do I answer questions as a participant?
A participant is someone who answers your polls and questions. This short video will give you an overview of how to answer those polls and questions.
More tips for participants:
Change an answer: Clear your answer and submit a new one. 
Emojis: The use of emojis is now available for all open text responses as well as word cloud polls.
Desktop app: When using the Vevox app on your desktop by typing in vevox.app in your browser, you will be able to see the polling questions as well as the home screen/Q&A message board next to each other.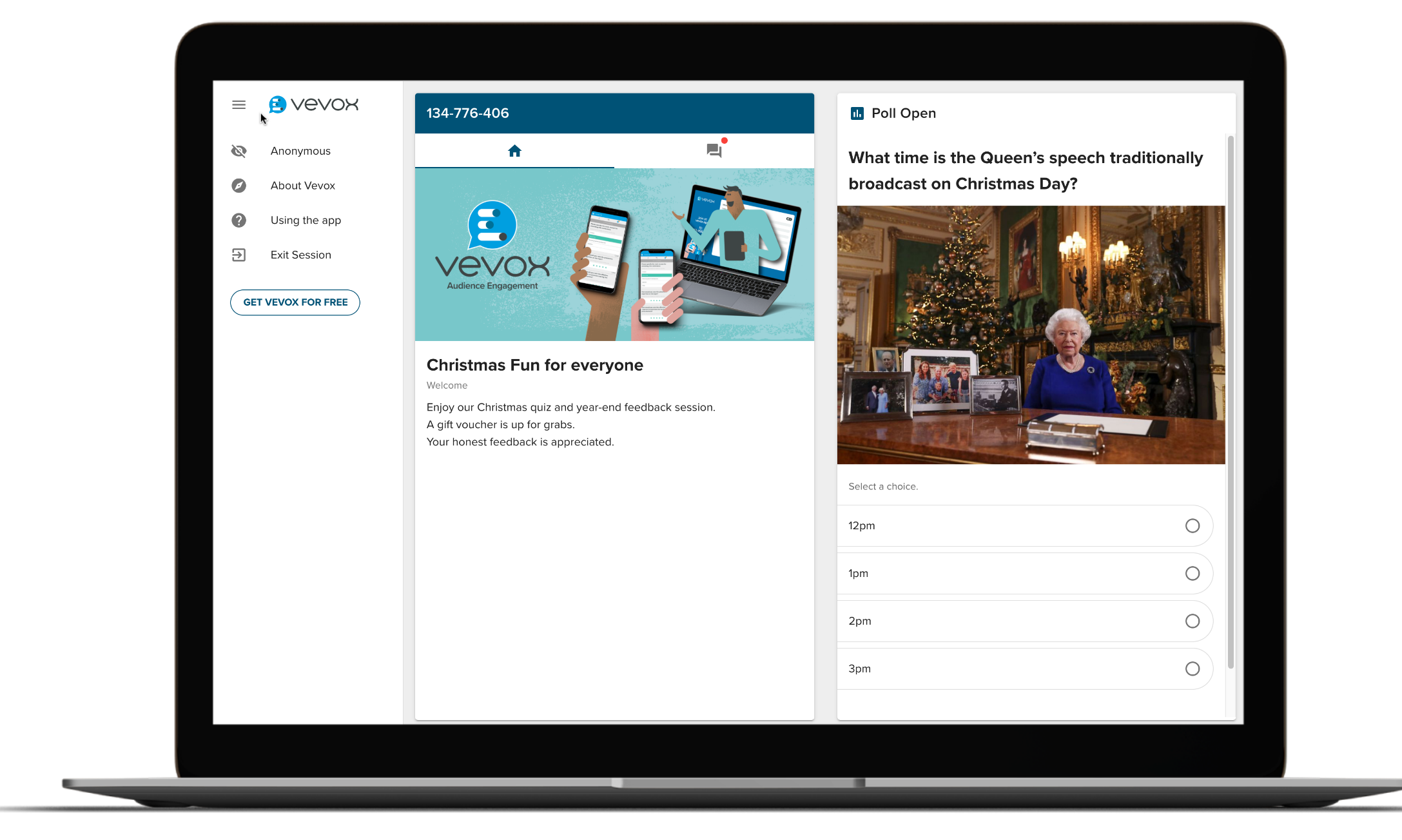 Q&A: When a poll is being asked, press the drop-down button in the top corner to revert to the Q&A board or home screen. Select the 'Poll open' option to go back to the polling again.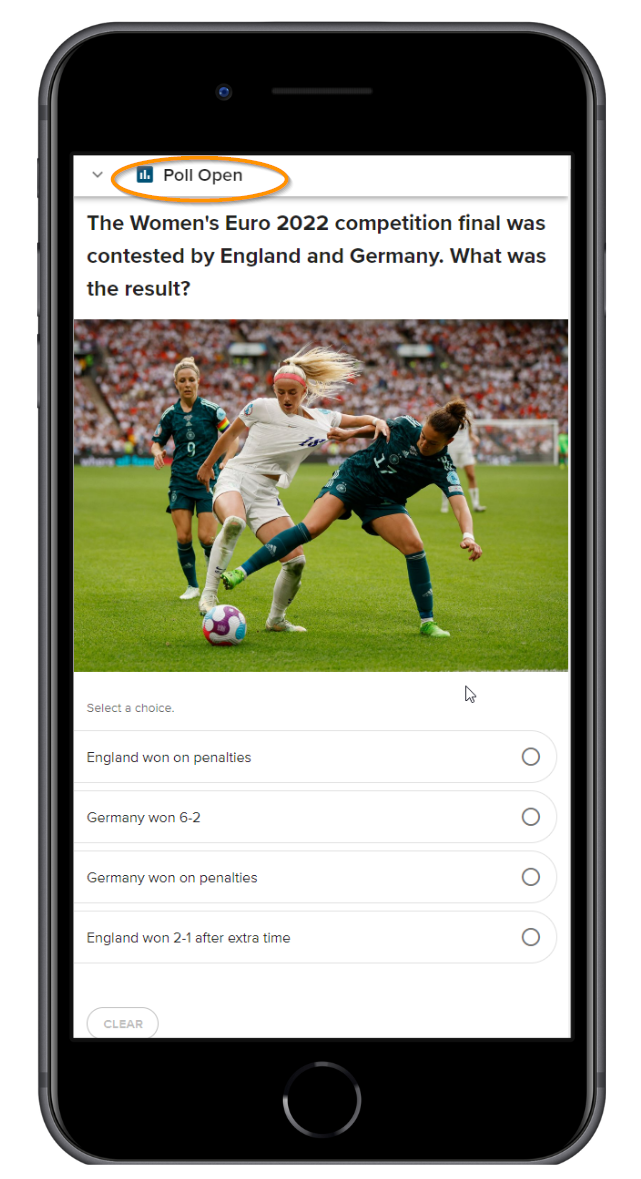 Sort & filter: As a participant, you can now sort your own Q&A message board on your device by 'Most recent' or 'Most liked'. Note that your session host might have a different display setting for the Q&A board in Present view. Then you can also filter it by selecting messages with replies only or your own messages that you have submitted. 
Survey: When completing a survey or a self-paced quiz, there is only one final submit button at the end of the survey. Make sure to press the button to ensure that your feedback has been received.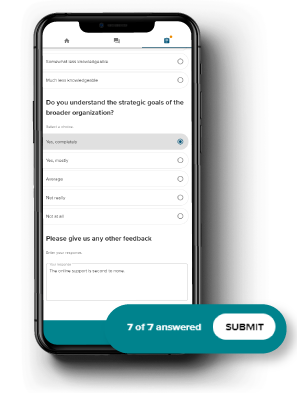 Identification settings: Vevox has introduced new identification settings. They depend on the session settings that the host has selected:

When answering polls, participants can either be anonymous or identified.
When answering Q&A the host can select the following options:

Anonymous - Participant will stay anonymous at all times. This is applicable for all polling, all Q&A feedback and all data reporting.
Show names -

Participant names will appear alongside any questions they post to the Q&A message board.

Hide names - Participant names will be hidden from the Q&A board, but the identity of participants will still be visible in the session data report.
Participant choice - Participants can choose if they would like their names to appear alongside any questions/comments they post to the Q&A board. Alternatively, participants can choose to stay anonymous. (The participant identity will stay anonymous in the session data report as well as on the Q&A board).

Profiles: To view your identification settings, go to the hamburger button (three stripes) in the left-hand corner of your home screen. Click on profiles and your identification settings will be revealed.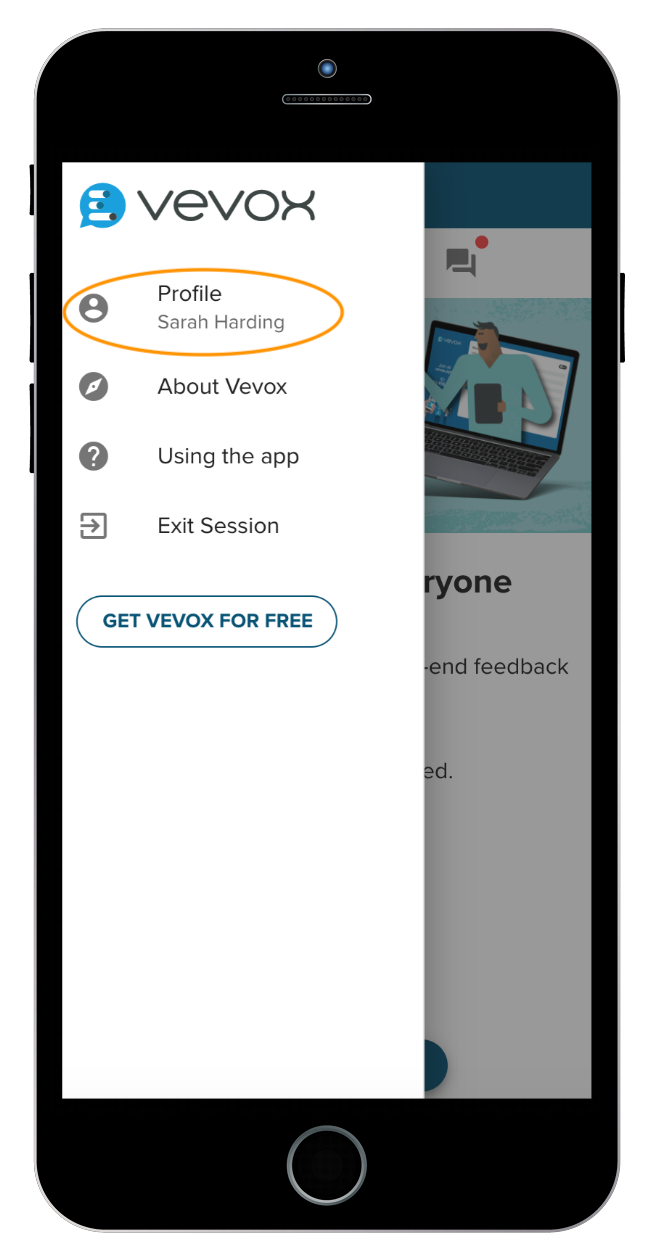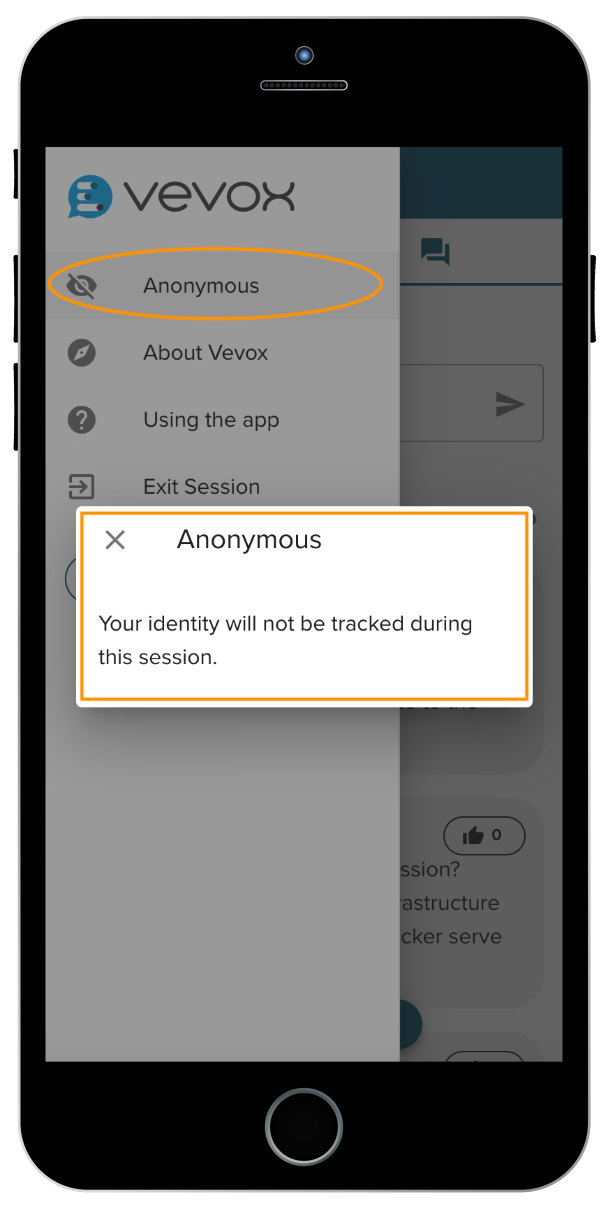 Notifications: Should an identification setting be changed during a live session, all participants will be notified to ensure identification transparency at all times.
Can you share one device for multiple participants? 
We know the whole family wants to join in the Vevox fun. But unfortunately, each participant needs their own device to answer polling questions, surveys or quizzes.
Troubleshooting
If you try and join a session and a message appears saying "Sorry, unable to join session right now. Please try again later." contact your meeting, session or event host. They have most likely not started the session yet.