Here are a few examples of how people are using Vevox to support virtual classes and training to help move their teaching and engagement online, keeping it interactive and inclusive. These lecturers have adapted their ways of working in the higher education sector to create unmissable classes in different settings.
1. Synchronous Session – It's really the same as if students are in the room
Zoom, Webex, Teams, Blackboard Collaborate – whatever the system you use for live classes and meetings, Vevox works alongside it.
The University of Southampton uses Vevox to enable a way for students to ask questions anonymously. Managing student Q&A with Vevox makes it simple and more effective as lecturers can order questions, highlight them, and remove them once addressed. The export of Q&A data at the end also allows for a way to have a record of all the questions and answers, so you can respond to any further questions that you didn't have time to address in the live session. The institution continues to use live polling in the same way that they used it in the physical classroom, to effectively measure student understanding and gather opinions.
Discover a few ways the University of Southampton use Vevox in this webinar hosted by Award-Winning Professor David Read.
2. Asynchronous Learning – Gather understanding alongside your flipped learning approach
Self-paced questions can be asked via the Vevox survey feature. This supports the flipped learning approach enabling lectures to see what's been understood from pre-recorded or asynchronous learning activities. You can then use the following session/class (whether it's pre-recorded or live) to address student knowledge gaps and to ensure any core concepts have been understood.
This case study describes how flipped learning helped improve pass rates at Durham University. Read the final paper here.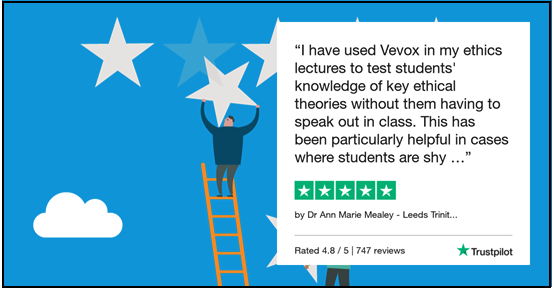 3. Breakouts – Make live online learning interactive
Break out rooms is a feature of a number of conferencing systems, including Zoom and Blackboard Collaborate (and soon to be better addressed via Microsoft Teams). Facilitating discussion is hard in a classroom (and even more challenging when the class is virtual) but it's crucial to embedding active learning. What's hard to achieve is bringing together all the insights gained from those separate breakout rooms (or groups). Vevox can be used to create a central repository for the outcomes of a group discussion, then when all students are back in the 'main room' you can ask the students to 'like' their top 2 or 3 comments, giving you a way to prioritize and evaluate the discussion via the Present View. This has been used to gather student concerns, strengths, weaknesses, responses to a problem etc. It would work nicely in a welcome week helping students to meet in smaller groups and record outcomes of the discussion.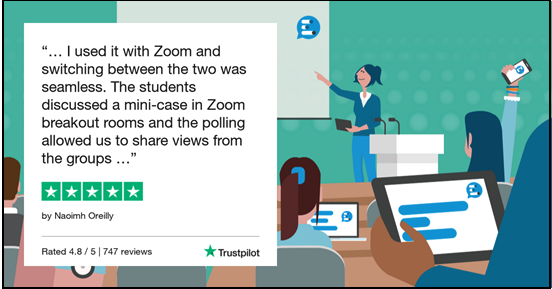 4. Feedback – Help ensure you retain students
Teaching methods have changed quickly and more so than ever, getting feedback from students on what's working and what's not is very important to retaining students, ensuring they are learning and that they are happy. By using Vevox's anonymous survey feature you can run MFQs, either at the end of a live session or email out the link direct to the feedback survey after a class/module/course. Results are not published back to students and are stored in your Vevox dashboard for you to analyze privately via excel or real-time displays.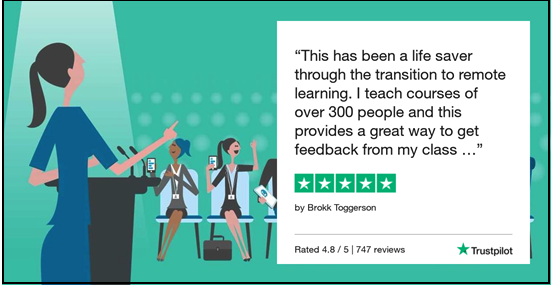 5. Hybrid - Plan for the way teaching is likely to go
Teaching will be mixed for a long while, although we're likely to see a heavy volume of classes stay online in the immediate future they are likely to move to being Hybrid where we see both online and F2F synchronous classes.
Hyflex will also become more widely used across universities where students have the choice of how they attend and participate in classes. Student collaboration tools like Vevox can allow for you to adapt your class activities (with no extra effort) but still cater for all, whether students are in the room or at home or the other side of the world, they can all equally participate in your Vevox session. Find out more about how our University customers have been using Vevox in the switch to online learning in our webinar recording.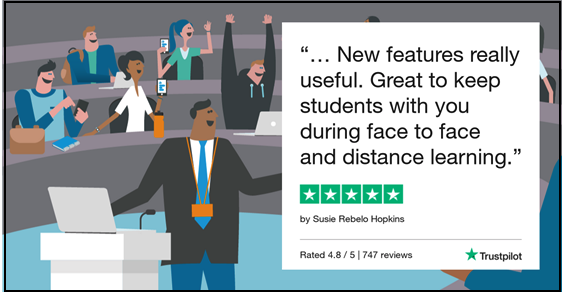 Watch this video on how to use Vevox in your virtual or hybrid classroom.