Is 

Vevox

 for me?
Vevox is THE way to give every participant a voice. Vevox is an audience interaction platform with live polling and Q&A that helps participants to partake with their own mobile devices. It is easy to use and requires no downloads.  
Participants vote on live polls, ask questions and even 'like' other comments to show their approval or agreement. It makes classes and communication meetings more energetic, more involving, more democratic – and also more fun.  
Organizers can share results in real-time and get detailed downloadable reports giving an insight as to what participants really think and understand. 
This award-winning technology (BETT 2018 winner & 5 star Trustpilot reviews) is adopted by 1000's of global corporations & universities.  
Do I need an app to answer polls in 

Vevox

?
No. You can answer all polls and questions straight from your internet browser without needing to download yet another app. Type in https://vevox.app into your browser, enter your 9-digit Session ID (you get that from your session host) and you are ready to go! 
Can you have polling & Q&A in the same session

?
Yes, you can! You can switch seamlessly between asking polling questions, getting feedback and comments with the Q&A message board, showing quiz leaderboards and having surveys completed. All within one session.
Can I run two polls at the same time?
No, you cannot run two live polls at the same time, but you can run different sessions simultaneously on some of our paid plans. Note that a participant can only be logged into one session at a time. In a session or a survey, you can run multiple polls in the same session, asking one poll and then move on to the next poll. 
Can I run a session twice?
Definitely. Duplicate the session as many times as you need, but remember to name each one separately. 
How many participants can join my Vevox session?
This depends on the type of package you have with us.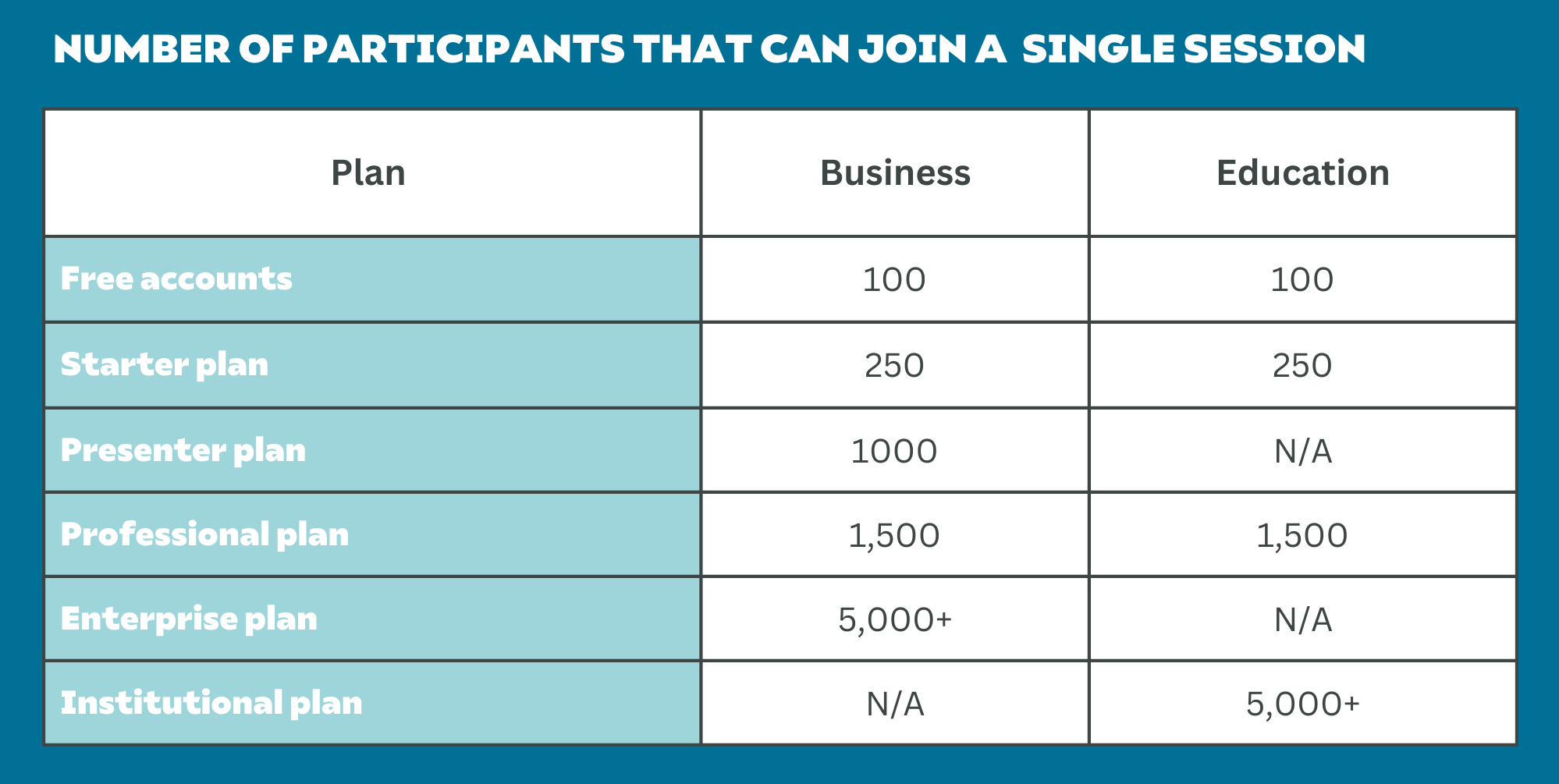 Please note there are some restrictions that apply to the Free accounts.
Does 

Vevox

work with Zoom, MS Teams and other webcast services?
Yes, indeed we do. Vevox uses Present view to display polling, Q&A, surveys, and quizzes to participants. It is super easy to share your screen from webcast platforms like Skype, YouTube, GoTo Meeting or GoTo Webinar. We also have special integrations for Microsoft Teams, Zoom & WebEx as well as education integrations for Moodle, Canvas, Blackboard & Brightspace. Read more about it in the webcast section.   
Does 

Vevox

 work with a Mac

?
Yes, Vevox works with your Mac & iPad. You can either present your polls to your participants from our display platform called Present view or use the new Office 365 PowerPoint integration. Read more about presenting with a Mac computer or ipad.  
Does 

Vevox

 work offline without internet connection?
No, Vevox does not work offline. You need an internet connection when you set up your questions or when presenting to your participants so they can see the audience display. Your participants would also need an internet connection (wifi or 4G) to partake in your polls for the results to show live.  
The only exception comes into play when using the PowerPoint add-in function. When you use this function you can set up, edit, and make changes to your slides & questions working in offline mode. But when presenting your slides (in PowerPoint) you should be online to launch your session and open up the polls to participants.   
Ca

n

 I see the 

Vevox

 privacy policy?
Yes. View our privacy policy anytime. 
For more information on GDPR compliance or our Terms & conditions, visit the Security And Data Privacy section.