In this article we cover:
We have an excellent picture library from Unsplash that is available to all Starter plans and up.
Wanting to visually enhance your participants' engagement? Vevox offers three ways of using images in polls:
1. Image polling:
Adding an image to a polling question in Present view. Images can be added to all Vevox polling types, including multichoice, text, rating, numerical or XY plot. This is to:
enhance the poll,
add context to the question,
or add a fun element.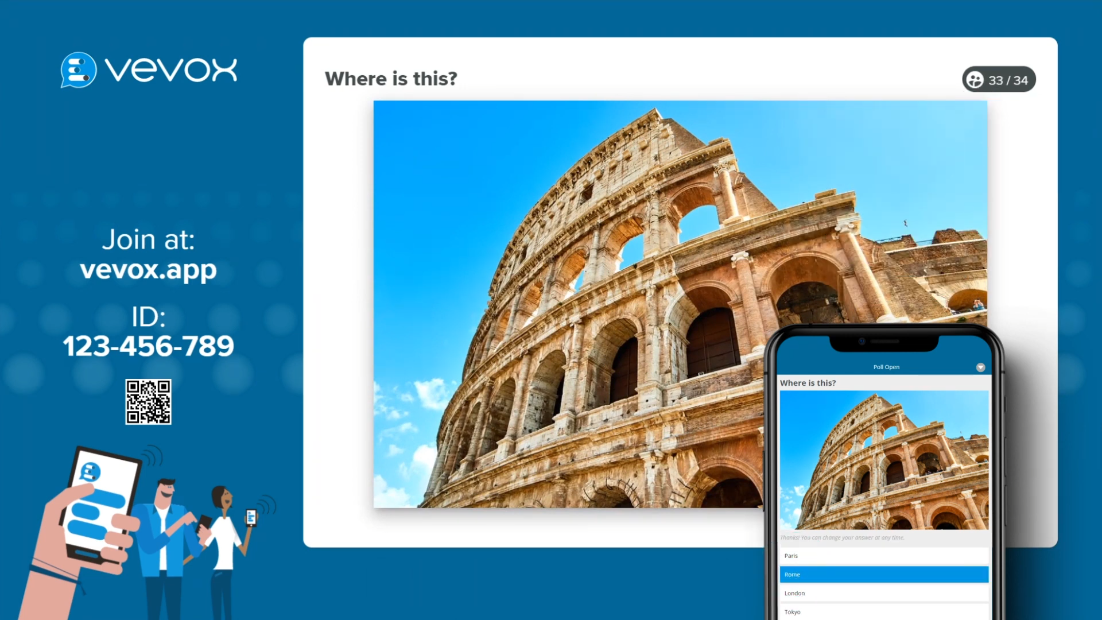 2. Pin on image:
This offers an additional layer of interaction. You can now ask participants to place a pin (area) on an image. This polling type can request participants to point anywhere on the image, making it ideal for:
Education - identify a body part, where would you find the scapula, indicate the fracture on this x-ray.
Market research - indicate your preference e.g. What do you most associate with in this picture? Where is your mood today on the mood wheel chart?
Geography –  Where is Brazil?  Point on a map where the longest river originates from.
Icebreakers - Where are you attending from? What is one important skill that you think everyone should have?
Business - What project should take priority? Who should be the employee of this month? 
Language learning - e.g. Spanish... Where is the Cabeza? Where is 'la segunda calle de la izquierda'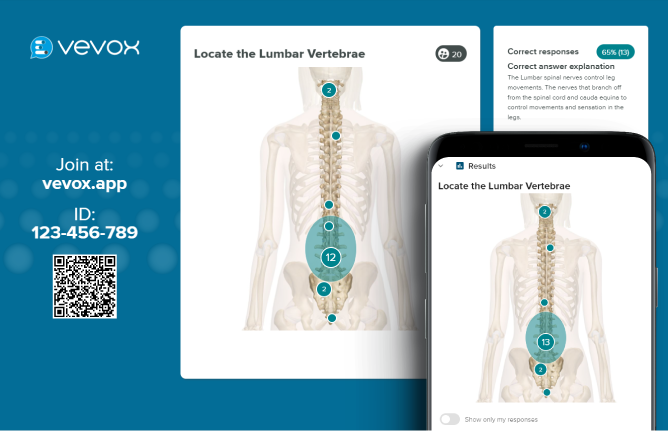 3. Multichoice on Image
This is an addition to the standard multichoice question type. One can plot the multichoice answer options directly onto an image. Then, participants can either select these pre-defined multichoice options by clicking on the corresponding number on the image itself or by choosing the options at the bottom of the image. Correct answers can also be set up, with the opportunity for participants to select more than one option if required.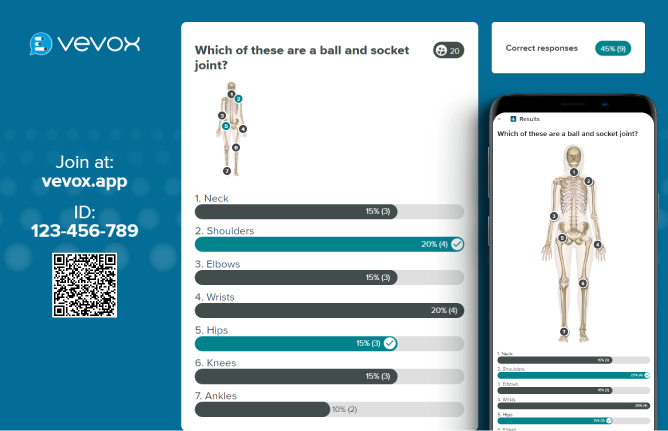 Unfortunately no PDF images can be uploaded.
4. Using Alt Text for imagery
Ensuring an equal voice for all is key to Vevox's goals, with accessibility an important consideration for any update. We have the ability to add 'Alt text' to any imagery that is uploaded within Vevox. When an image is uploaded, whether that be a custom image for the home screen or to add to your polls and surveys, you can add in alt text that will describe what the image is for those participants that are visually impaired and work with a screen reader.
5. Using images in PowerPoint:
Watch this video on how to use picture polls in PowerPoint.
Unfortunately you cannot currently use videos in a Vevox poll.