In this article we cover:
Remember to have at least one session set up in your Vevox dashboard before you start using the PowerPoint Add-in.
To log in to Vevox through the PowerPoint Add-in:

Open PowerPoint and select the Vevox tab from the PowerPoint ribbon.

Select the 'Login' button icon. If you are not connected to a session the icon will be grey and display the text 'Login'.

Enter your login credentials

Different authentication methods
Depending on how you set up your Vevox account determines the method you use to log in to PowerPoint.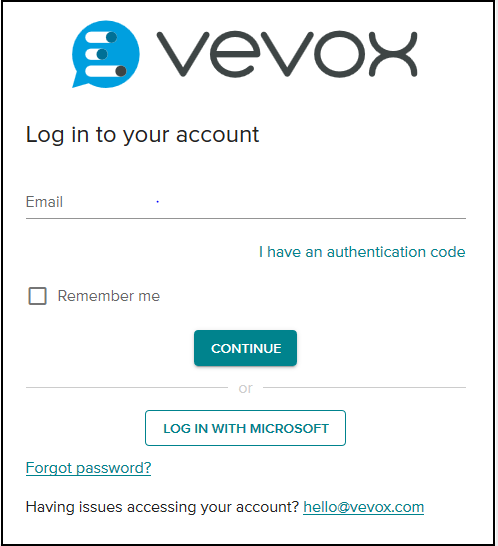 1. Email and Password
The most common method for logging in. When you created your Vevox account you will have used your email address and created a password. Use these details here to connect the PowerPoint add-in with your Vevox account.
2. Microsoft Login
An option when signing up for a Vevox account is to use your Microsoft Account details to authenticate yourself. If you chose this option when creating your account you will need to select 'Sign in with Microsoft' and use your Microsoft account details.
3. Authentication Code
All users can connect their Vevox account with PowerPoint using the Authentication code which is located in your Vevox dashboard. The instruction for where to obtain this are at the bottom of this article.
4. Universities' Learning Management System
If you access your Vevox dashboard through your Universities' Learning Management System (e.g. Canvas, Blackboard, Brightspace or Moodle) then you won't have standard login details, you will need to use the Authentication Code method to link your Vevox account with PowerPoint. This is applicable for all VLE/LMS or LTI logins.
5. Single Sign-On
If your organization uses Single sign-on (SSO) to access Vevox then after you enter in your email address you will be automatically directed to your Single sign-on portal. Once you have been authenticated there you will be returned to PowerPoint to select the meeting to connect to.
How to generate an authentication code
Your authentication code can be generated by clicking on the PowerPoint add-in button from your dashboard.
Here you can find out a little more information about the PowerPoint add-in and a link to download the add-in. On the last page of this PowerPoint information guide you can generate your code.
Press the 'generate code' button and then press 'copy'. This will copy the code to your clipboard and you can then paste this into the authentication code box within the login screen in PowerPoint.