In this article we cover:
With the introduction of our LTI (Learning Tools Interoperability) for Education you can access the Vevox dashboard directly from your VLE/CMS. This relies on external systems to authenticate you when logging into your Vevox Account.
To support this method of linking your Vevox account to PowerPoint we have introduced the Authentication Code.
Using an authentication code is particularly important for LTI users as it is the only way you will be able to authenticate yourself when using the PowerPoint add-in. It can also be used as an alternative method of logging in for all other users.
You need an authentication code to log in if
:
You are an

LTI user

and access Vevox by clicking a button from a third party tool (e.g. Canvas, Blackboard, Moodle etc.).

If you access Vevox directly through the www.vevox.com site, then you can log in as normal (without an authentication code). But you still have the option to use the authentication code as well.
Watch this video on how to log in with your authentication code:
When logging in with your authentication code and selecting the 'Remember me' box, Vevox will keep you logged in automatically. After 30 days of inactivity, this will resent and you will need to get a new authentication code.
Steps to create your authentication code:

Go to the Login option in the PowerPoint ribbon


Select the 'I have an authentication code' option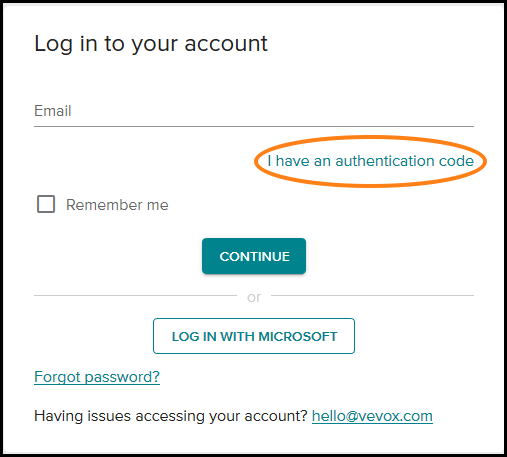 In your internet browser, move to your Vevox dashboard and select the PowerPoint Add-in option in the main navigation menu on the left.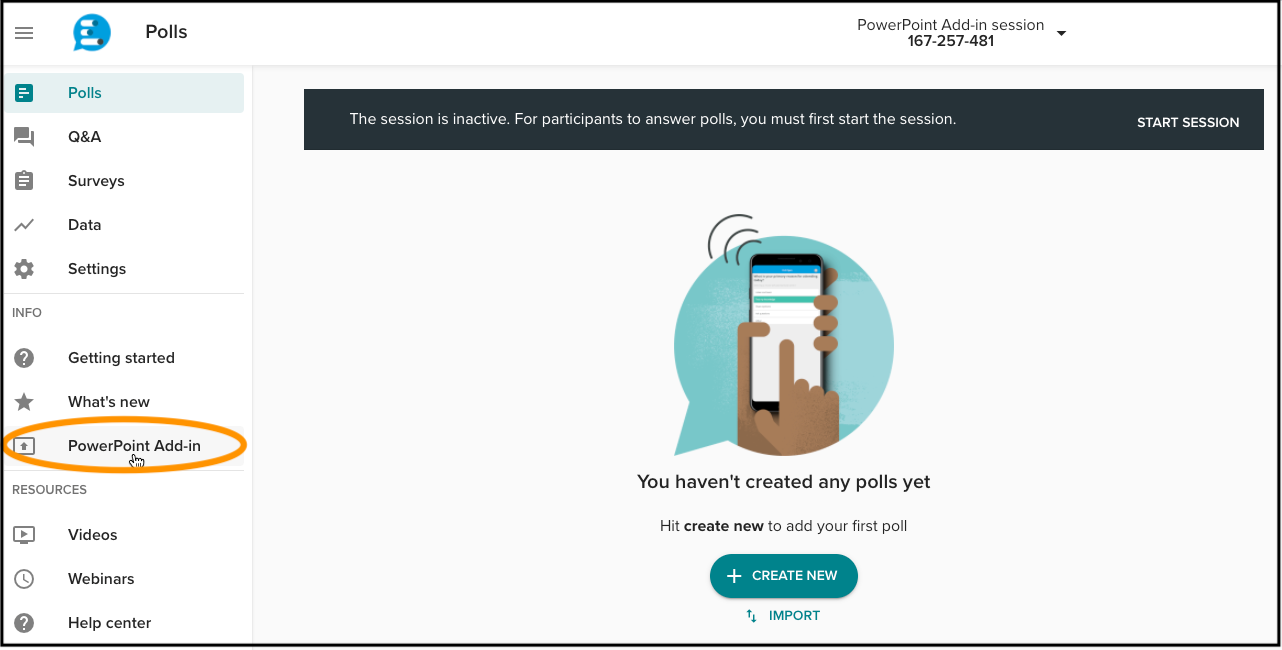 Move to the third slide with the arrows to create the Authentication code. Click on it and then copy the code.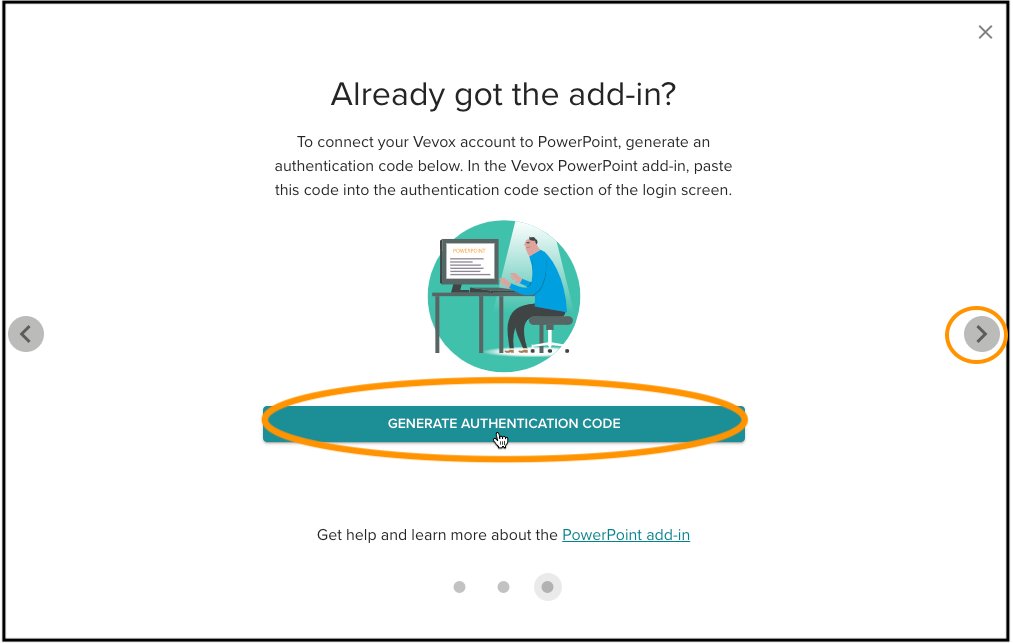 Move back to your PowerPoint and paste that code into the Authenticate box and press 'Ok'.

A pop-up box will appear asking you to select the meeting session you want to work on. Select the relevant, previously set up meeting session and press the 'Connect' option.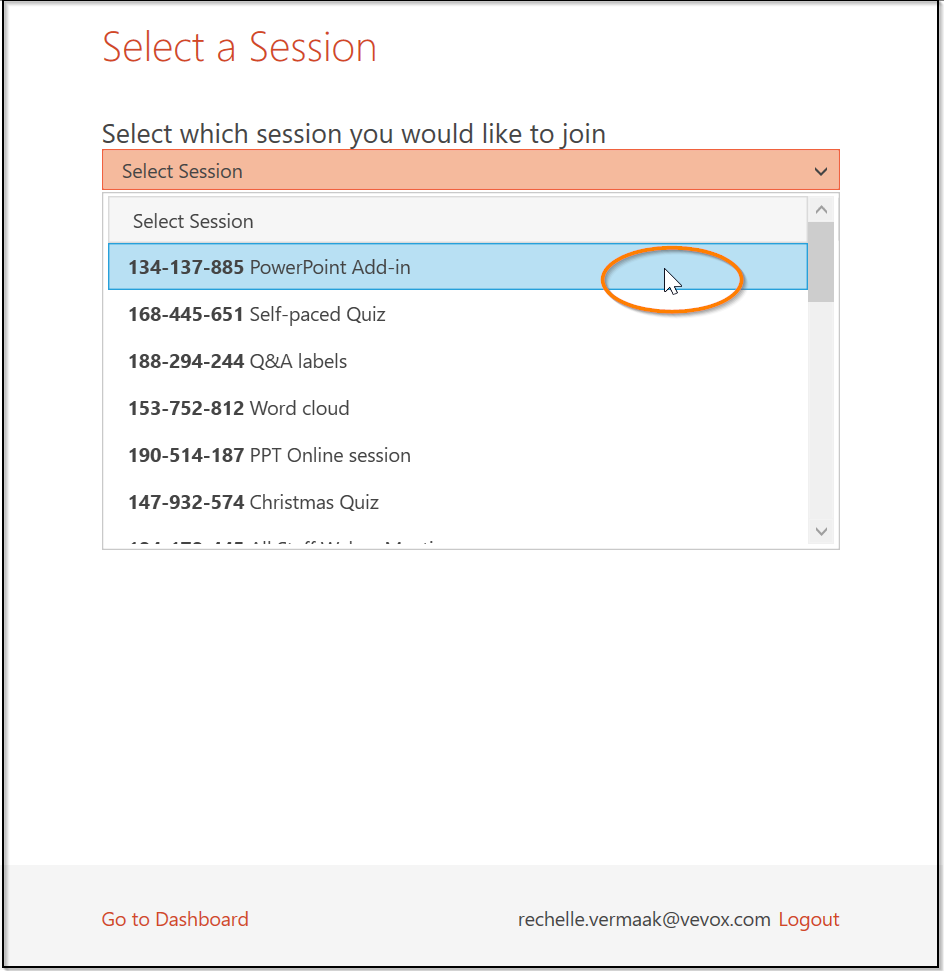 Troubleshooting
Should you get an error message when logging in with an Authentication code saying "Invalid token. Try again" do the following:
Go back to the authentication code generator page.

Re-click the blue button to 'Generate Authentication Code'.

Copy the new code, and use the new code to log in to PowerPoint.