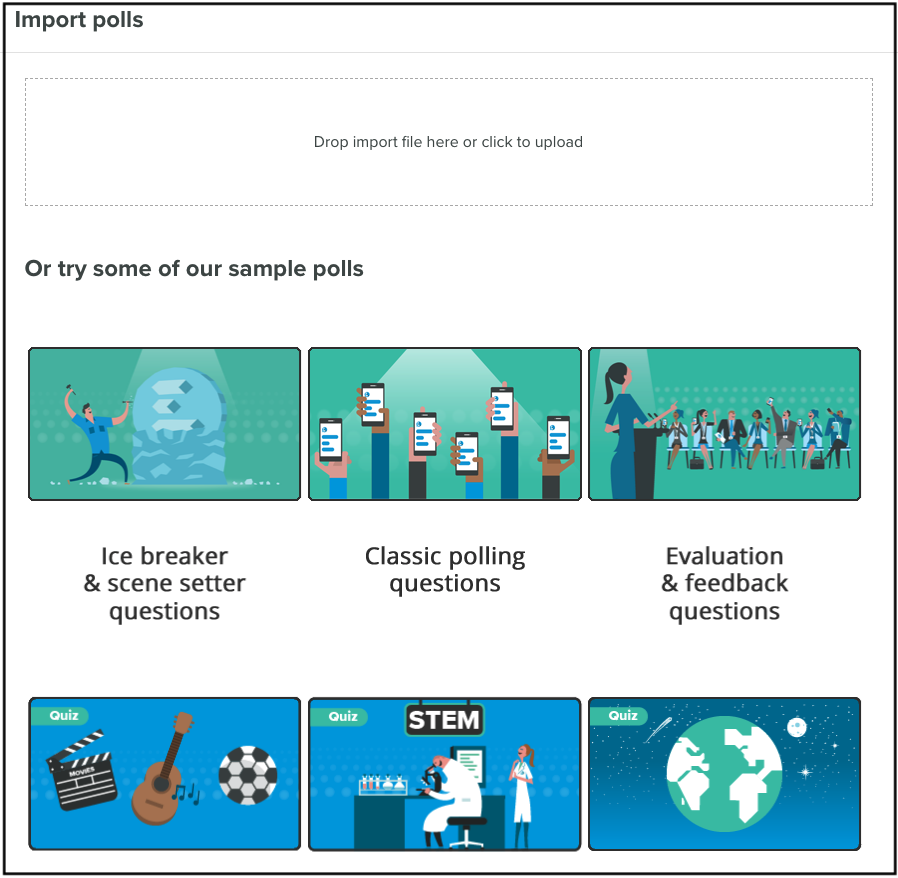 Surveys are questions that can be completed at own pace and own time. In other words, you do not need to have a live meeting or presentation active. It can happen in 'offline' mode. No shared or big screen needed. Only mobile devices.
Polls happen in real-time during live events, online meetings and classes. It is only open for interaction as long as the meeting, event or class lasts. Participants will be voting with their mobile devices during live polling and following the presentation or meeting visually via a big screen or computer screen.
Surveys can be imported or exported from one session to another. This provides a simple way of re-using survey questions without the need to recreate them from scratch each time you start a new survey.
Surveys questions can also be exported from a survey meeting and imported to a poll meeting with ease. The opposite is also true where polls can be exported and then imported into the survey functionality.
Follow these instructions to export a survey and import
it
into a poll meeting
Before importing surveys the first step is to create a Vevox import file that contains the information related to a survey.  This is done by exporting a survey or multiple surveys  that you have previously created.
To export a survey:

Select 'Surveys' from the navigation menu.

Select the checkbox of the surveys to be exported.
 When one or more surveys has been selected a series of options appear at the top of the polls list.
 Select 'Export Survey Template'.

Exporting surveys will download a file to your default download folder. Your file will now have a '.json' extension at the end.  This file stores all the information related to the survey or surveys that you have exported.  It can be shared with others or stored on your computer to be imported into any other Vevox polls.
Note: You can select multiple surveys to be exported at a time. When selecting multiple
surveys
they will all be stored in the same survey file when downloaded. To store survey questions separately in multiple different files they must be exported separately.
Import Surveys into Polls
Follow these steps to import your poll(s): 

Create a new meeting and give it a name.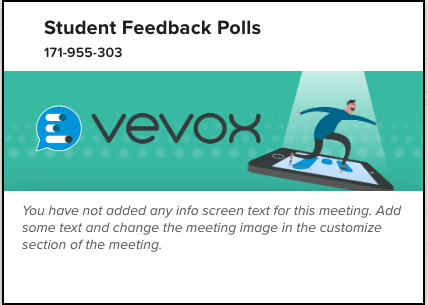 Select 'Polls' from the navigation menu.

Press the 'Import polls' button.


After selecting the 'Import polls' button a menu pop-up screen will appear asking you to drag and drop or browse for a Vevox import file.

Locate theVevox import file and select it. Your file should have a 'json' extension at the end of the file name.

 A warning pop-up menu will appear indicating that you are importing a survey into a poll meeting.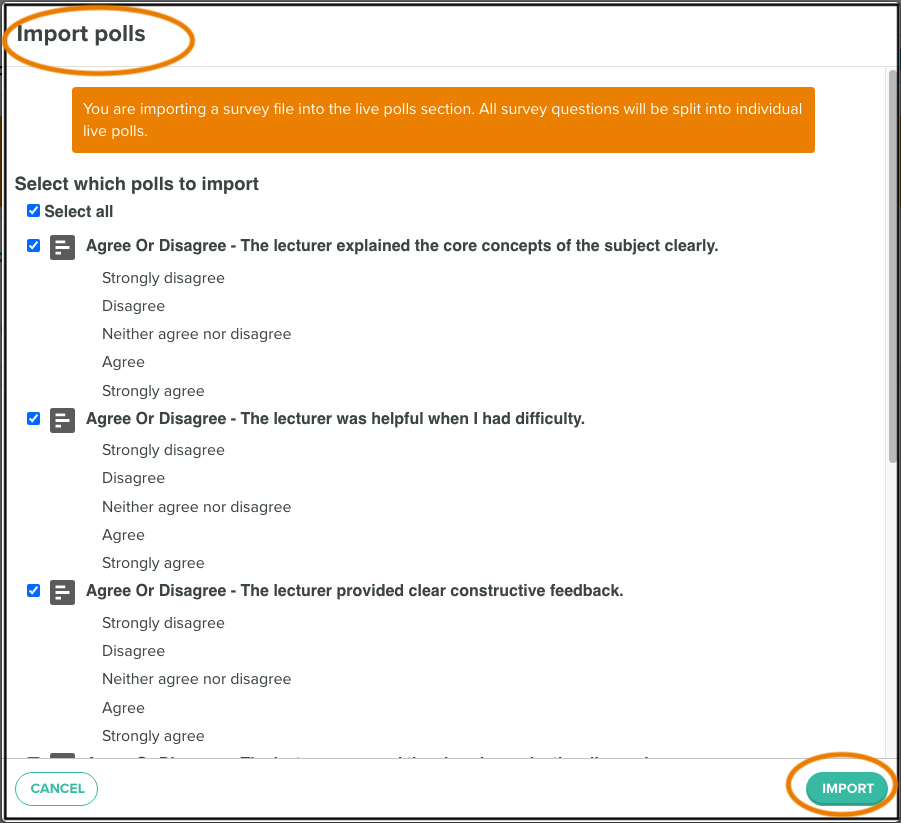 By default, all survey questions contained within the file will be imported into a single new poll file. Successfully selecting a Vevox import file will present a preview of the survey questions to be imported. You can decide what questions to import by selecting the tick box next to the chosen questions.

To complete the process press 'Import'.

You will be reminded to change your meeting status from 'Waiting' to 'Start' mode. Then only will you be able to 'Start' or open the poll before any responses can be accepted.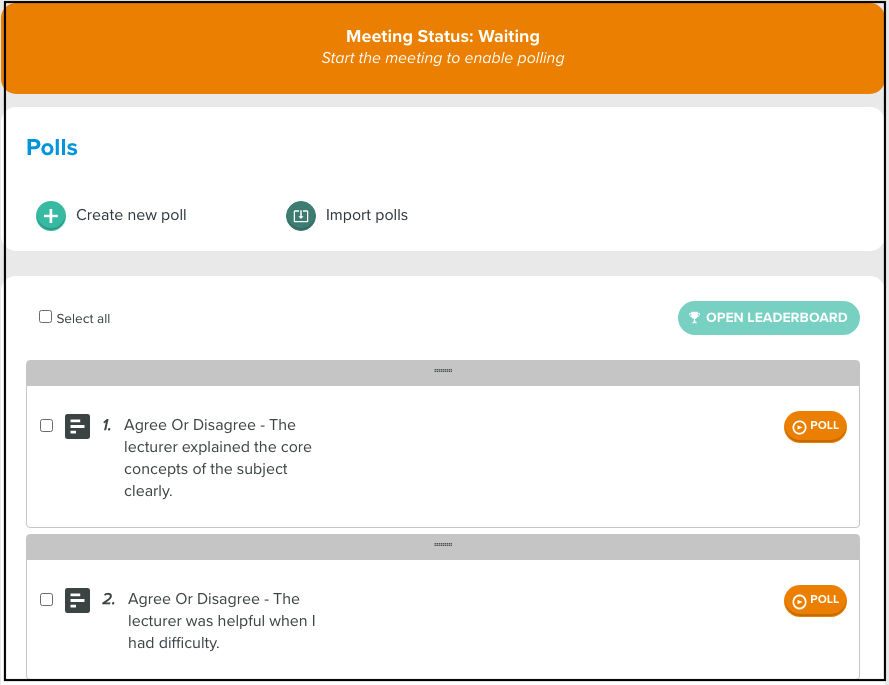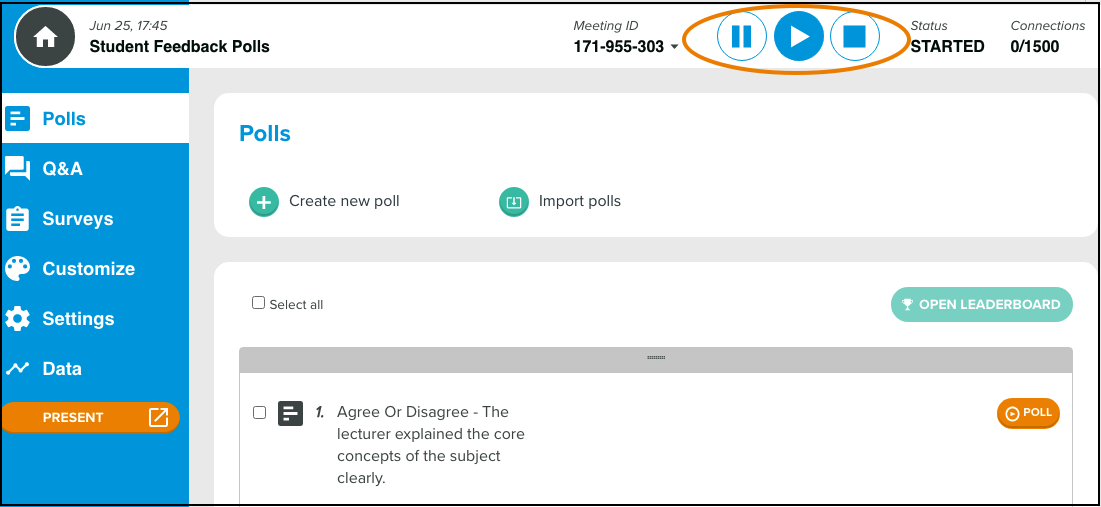 NOTE: No previous result data will be imported. Only the blank questions.

Once you have successfully collected your responses and closed the polls, you can request the data reporting by selecting 'Data' from the navigation menu.