Steps to create your first session:
Whether you are creating your first session or creating a new session the steps stay the same.

Log In to your dashboard.

Press the 'Create Session' button.

Enter your new session name.

Press 'Create'.
Note: The default setting for newly created sessions is Anonymous. This means that your participants are not required to enter a profile name to participate. Your participants will also not be identified in any reporting.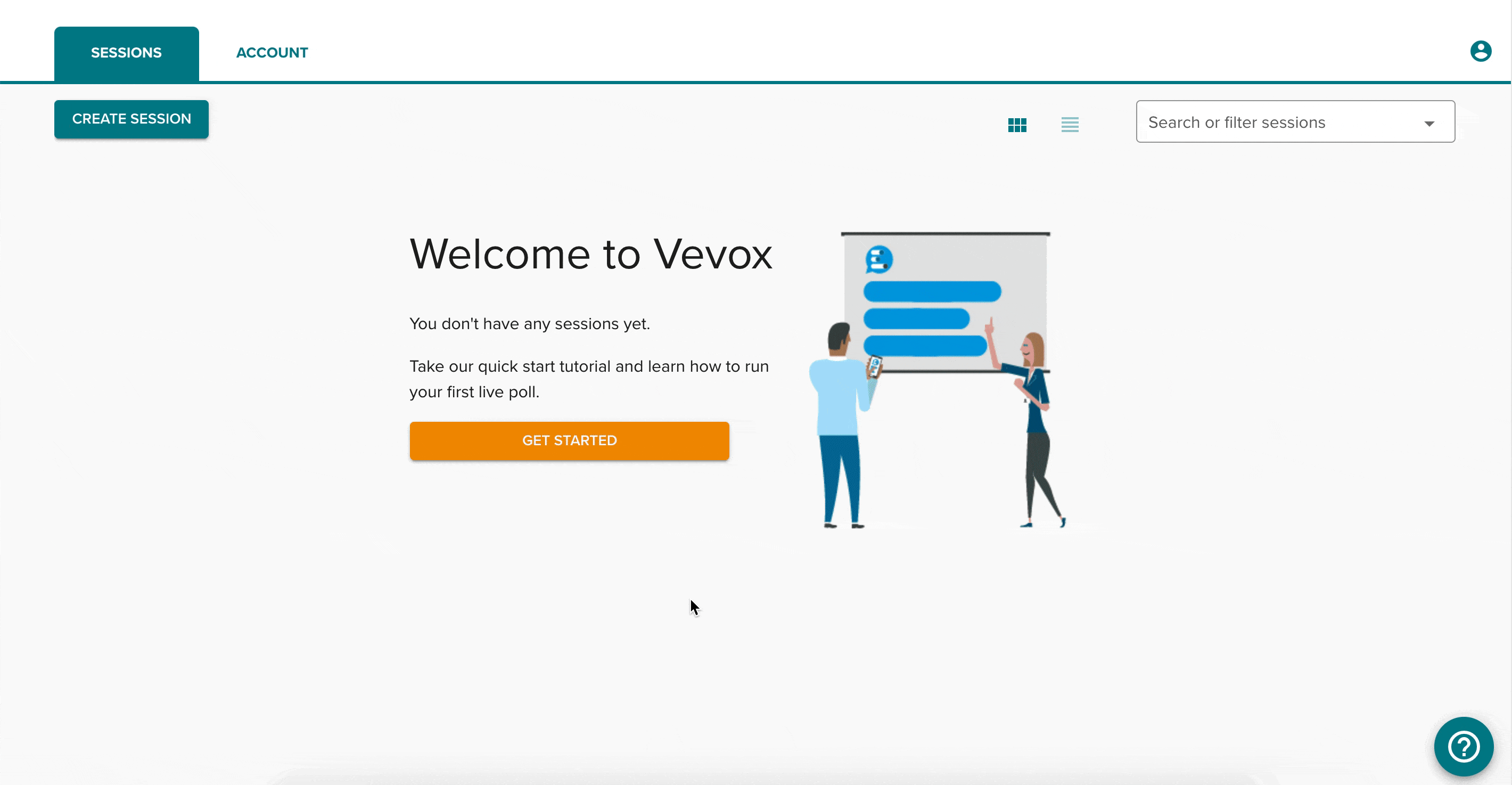 From here you can select the options menu (three dots) next to the session name to:
Change the session settings
Duplicate the session
Invite participants or
Delete the session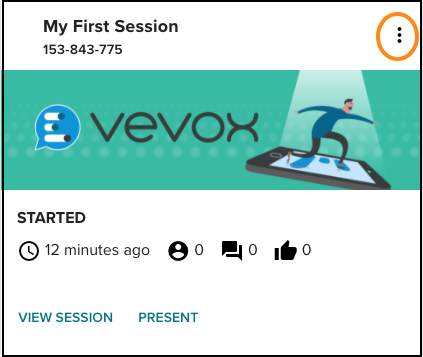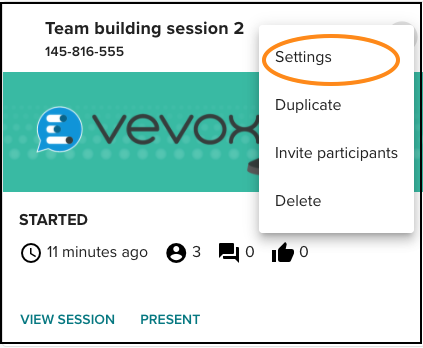 When you click on the
Settings
in the main navigation menu you will find a new pop-up window giving you setting options for:
General session info, meeting date, creating a passcode (optional) & adding labels to your meeting.
Access to features such as the Q&A message board, moderation for the Q&A, profanity filter, and if you want your participants to stay anonymous or identify them. This section also allows you to show the joining instructions with the 9-digit Session ID and/or to use a QR code to invite participants. Also, the on/off option for automatically displaying voting results on poll close. Lastly, select to set up webcasting or zoom integrations.
Where to customize the theme of your session by changing the logo and background templates for present view as well as the participant app.
If you want to share your meeting with a colleague or another party to help manage the meeting when you are presenting.
Setup & feature sections of your session settings.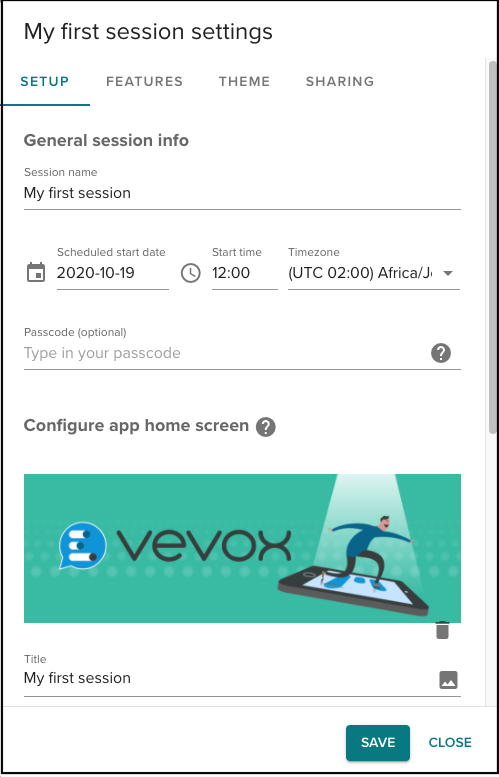 The scheduled start date and time is only used for reference in the joining instruction for participants as well as listing your meeting sessions in order of your upcoming & past sessions. You will still need to start and stop your session manually.
Present view & sharing sections of your session settings.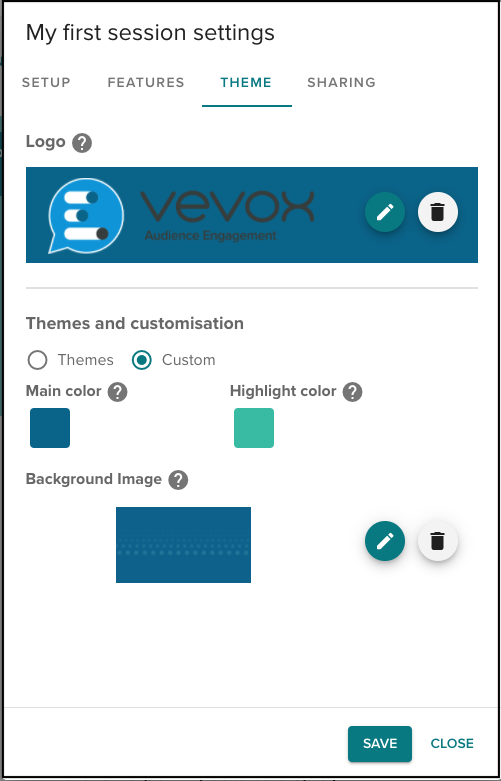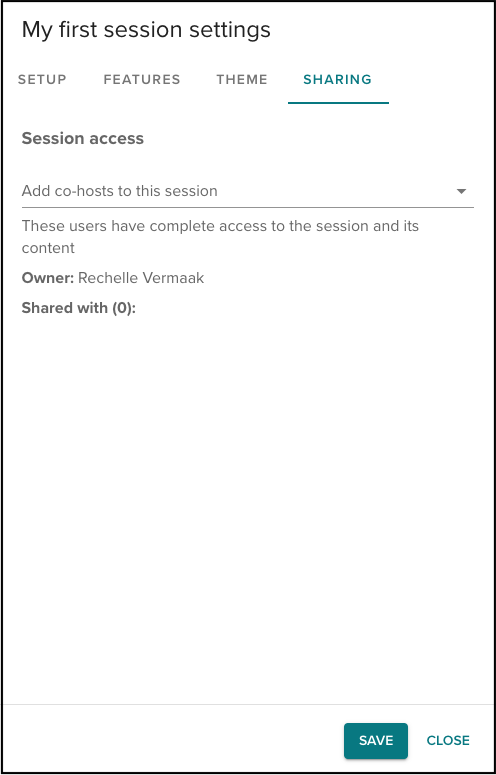 If you want to create more screen space, click on the hamburger button on the left to contract your dashboard menu.

Click on the hamburger button once again to expand the dashboard menu.

Watch this short video on setting up your first poll and launching it to your participants: