In this article we cover:
What is a session?
A session is where all your polls, surveys, Q&A board and or quiz are grouped together for a specific event/meeting in your dashboard. This can be for a face2face, online or hybrid event. Sessions can be edited, duplicated, reused, deleted, and shared with a colleague. All relevant data collected for that specific event or meeting will be available in the session itself.
Creating a session for each specific event or meeting is advisable, even if you have a weekly or bi-monthly event. It will be easier to refer back to a particular session in your dashboard to remember what interaction and engagement took place.
Steps to create your first session:
Whether you are creating your first session or creating a new session the steps stay the same.

Log In to your dashboard.

Press the 'Create Session' button.

Enter your new session name.

Press 'Create'.
When you create a session, you become the session owner and the session is only visible in your dashboard.
Note: The default identification setting for newly created sessions is Anonymous. This means that your participants are not required to enter a profile name to participate. Your participants will also not be identified in any reporting.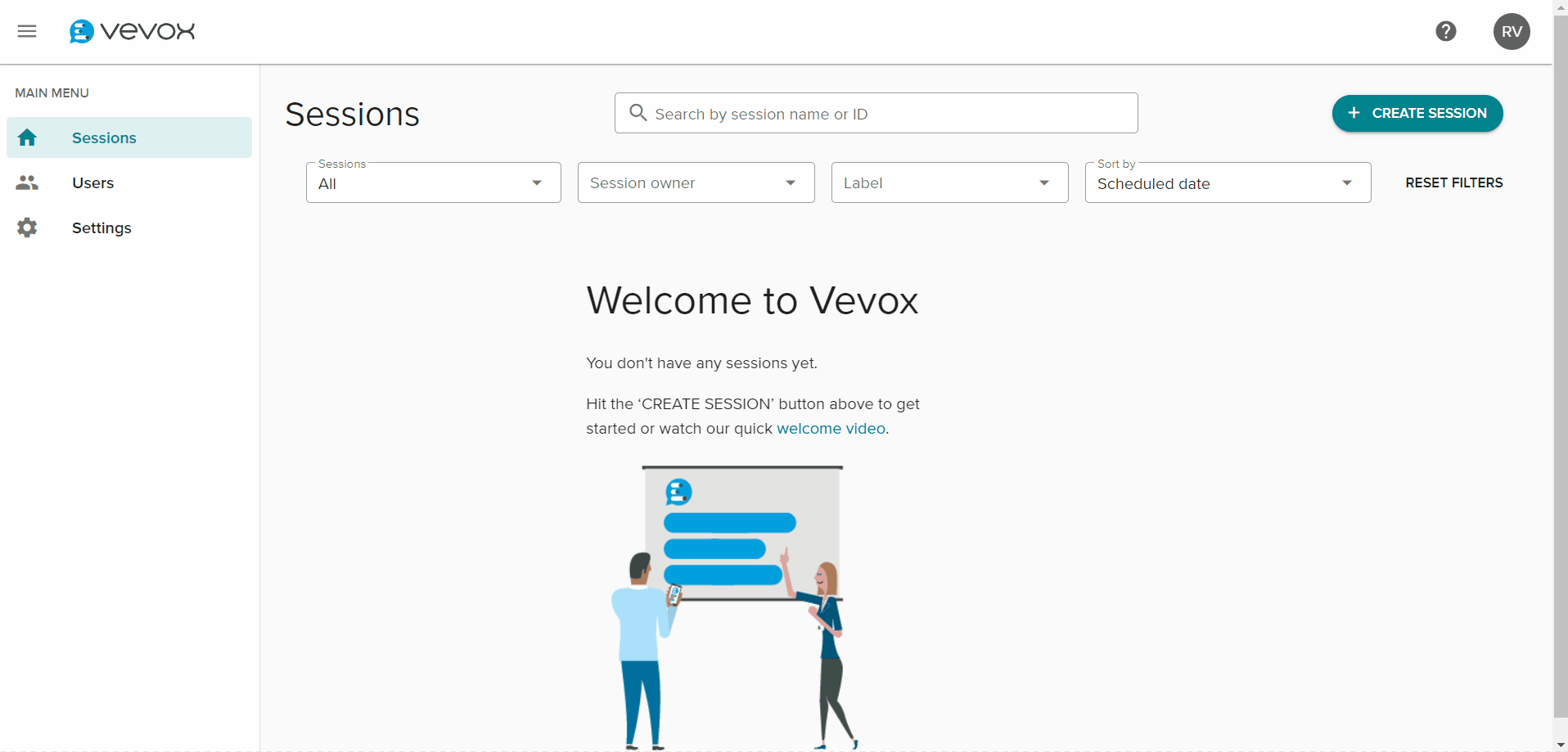 Go back to your session list and select the more options menu (three dots) next to the session name to: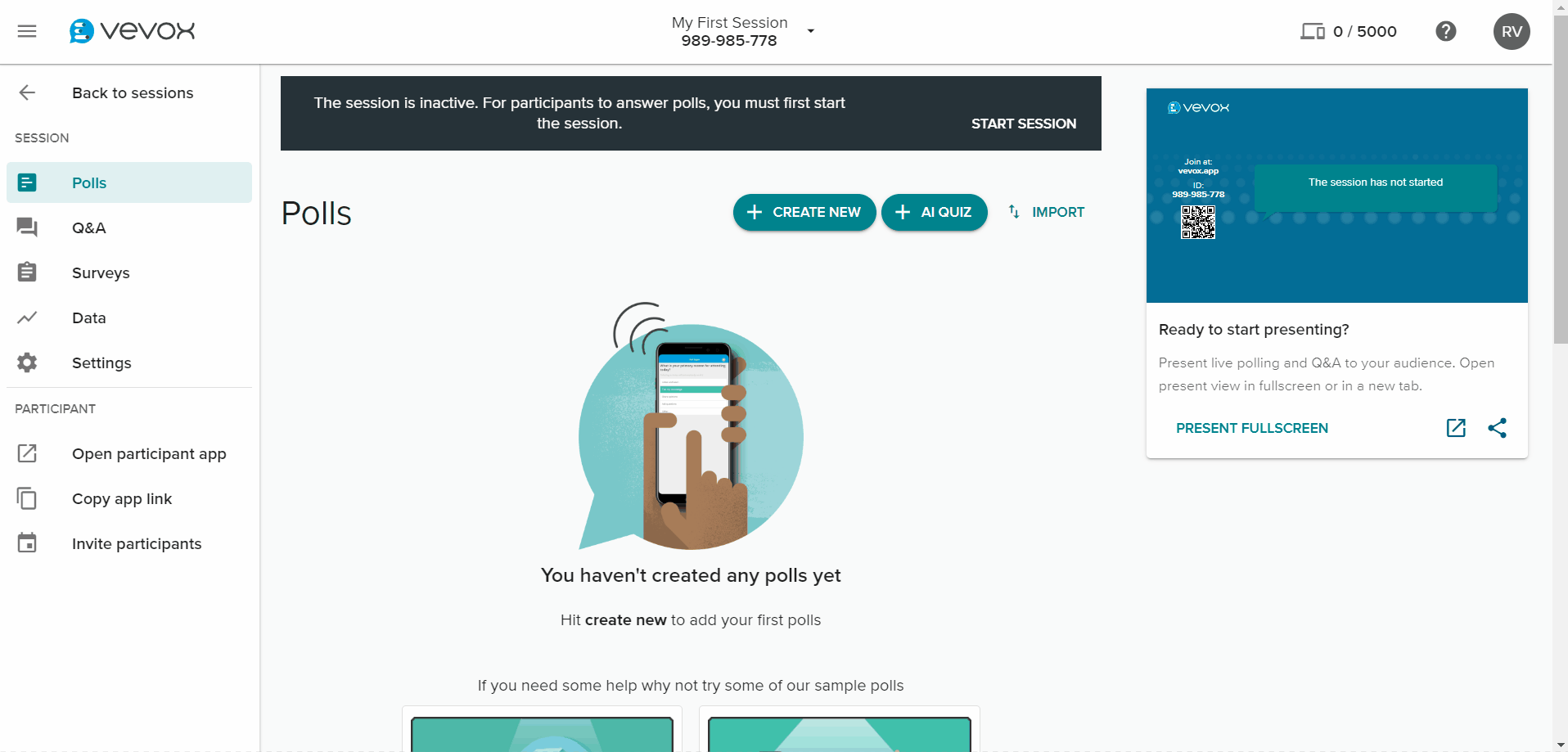 Session Settings
When you click on the Settings in the main navigation menu you will find a new pop-up window giving you setting options for the:
1. SETUP TAB:
General session info, session date, session name, the title of your session, a subheading and then a description (or agenda) of what you are going to share with your participants during the session. (The title, subtitle and description sections will appear on your participant app, once participants have joined your session). You can also add labels to your session card to make it easy when searching for a specific session.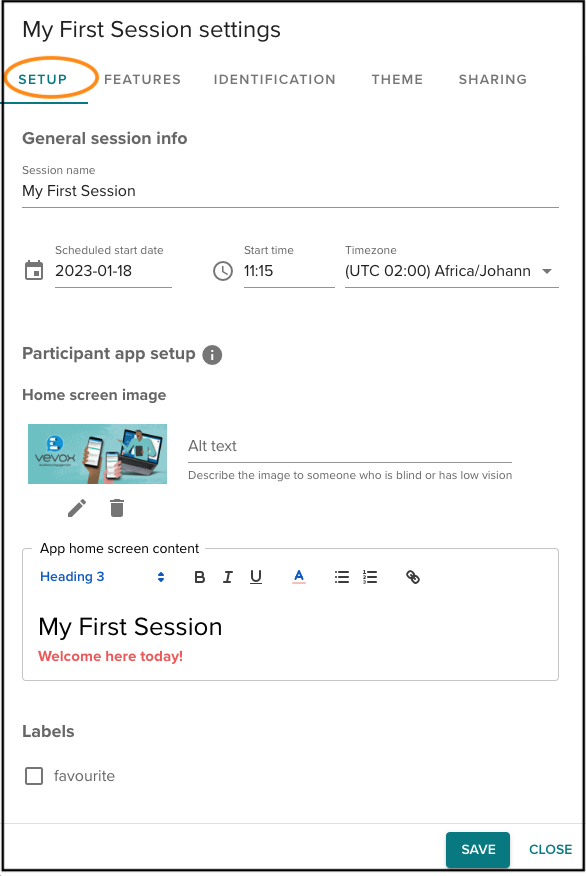 The scheduled start date and time is only used for reference in the joining instruction for participants as well as listing your meeting sessions in order of your upcoming & past sessions. (By adding a start date and time, will not automatically start your session. You will still need to
start and stop
your session manually.)
2. FEATURES TAB:
Gives access to features such as the -
Q&A settings - sharing a Q&A message board with your participants as well as the moderation setting for the Q&A board.
Poll settings - with the profanity filter, and also the on/off option to automatically display the voting results on poll close.
Present view settings -This section allows you to show the joining instructions with the 9-digit Session ID and/or to use a QR code to invite participants.
Webcast - enabling you to link your Vevox session to a webcast. Contact our team at hello@vevox.com if you would like to enable it or read more about our webcast setups.
Zoom integration - Vevox offers a special Zoom integration to ensure a seamless experience when hosting a Zoom call with audience participation.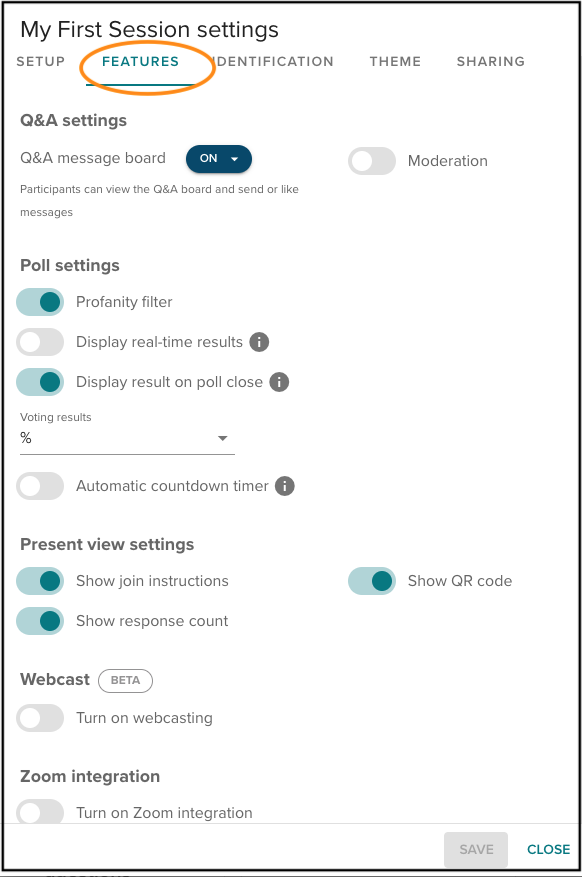 3. IDENTIFICATION TAB -
In this section you select the settings if you want your participants to stay anonymous or have them identified during a session. You can also set up a passcode here, or SAML SSO authentication. Choose between the different participant identification options:
Anonymous - for sessions with or without passcode protection. Participants will always be completely anonymous in this mode, even in the data reporting.
Identified - these sessions allow you to get your participants to enter a name or use SAML authentication to identify them.

Show names - participants names will be visible to all other participants on the Q&A board. All live polls and survey answers will be identifiable in the data report.
Hide names - participants names will be hidden on the Q&A board. Any messages sent to the Q&A board will be still identifiable in the data report. Additionally, all live polls and survey answers will be identifiable in the data report.
Participant's choice - participants can choose for themselves if they would like to be visible or anonymous when using Q&A. Any Q&A messages sent anonymously will be completely anonymous to other participants and in the data report. All live polls and survey answers will be identifiable in the data report.

Passcode protection -

set up a passcode that participants need to enter to be able to join the session.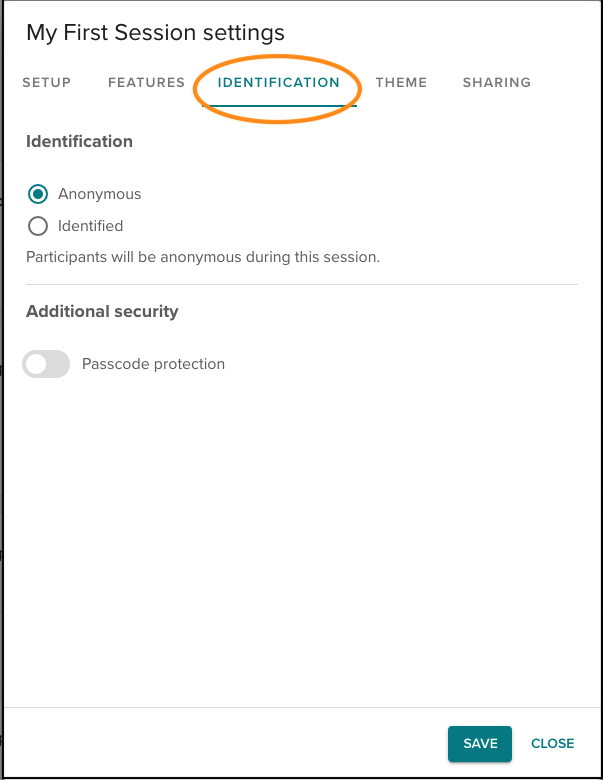 4. THEME TAB:
This is where you can customize the theme of your session by changing the logo and background templates for Present view as well as the participant app.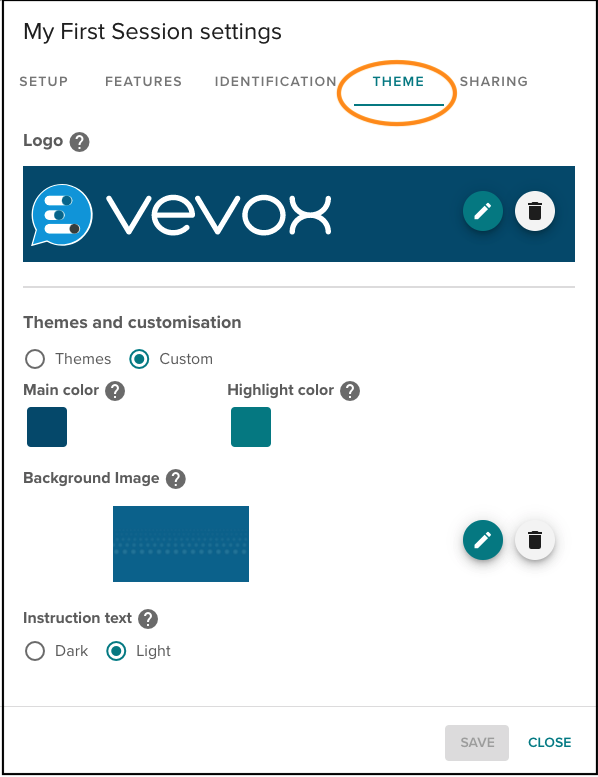 5. SHARING TAB:
If you want to share your meeting with a colleague or another party to help manage the session when you are presenting.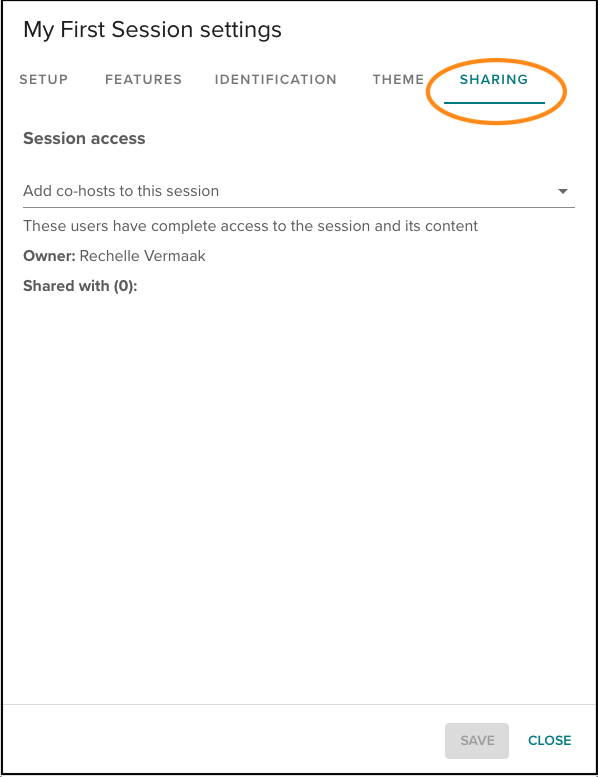 Easier navigation
If you want to create more screen space, click on the hamburger button on the left to contract your dashboard menu. Click on the hamburger button once again to expand the dashboard menu.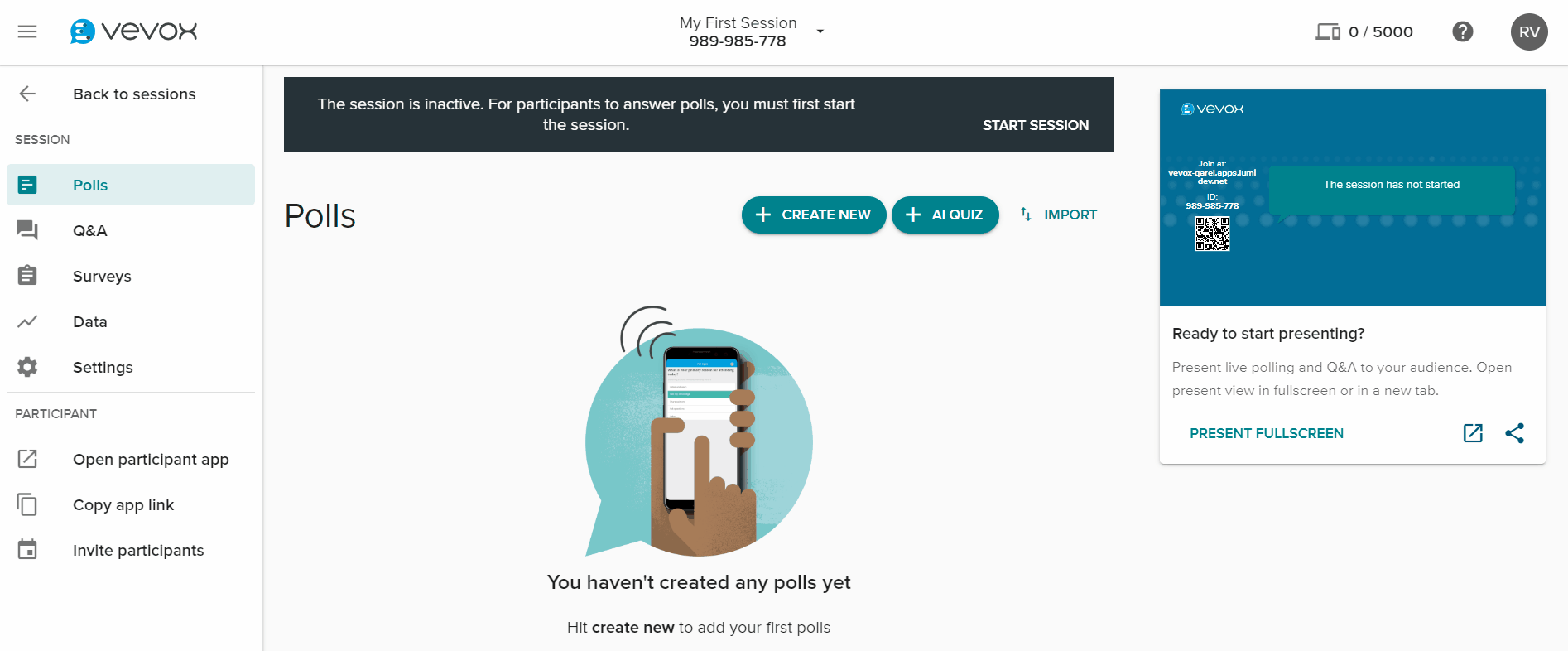 Labeling your sessions for searchability
Instead of re-ordering and using folders, you can label your sessions to help you find them easily again. Use the same label to group certain sessions together or identify them by keywords.
To label your session: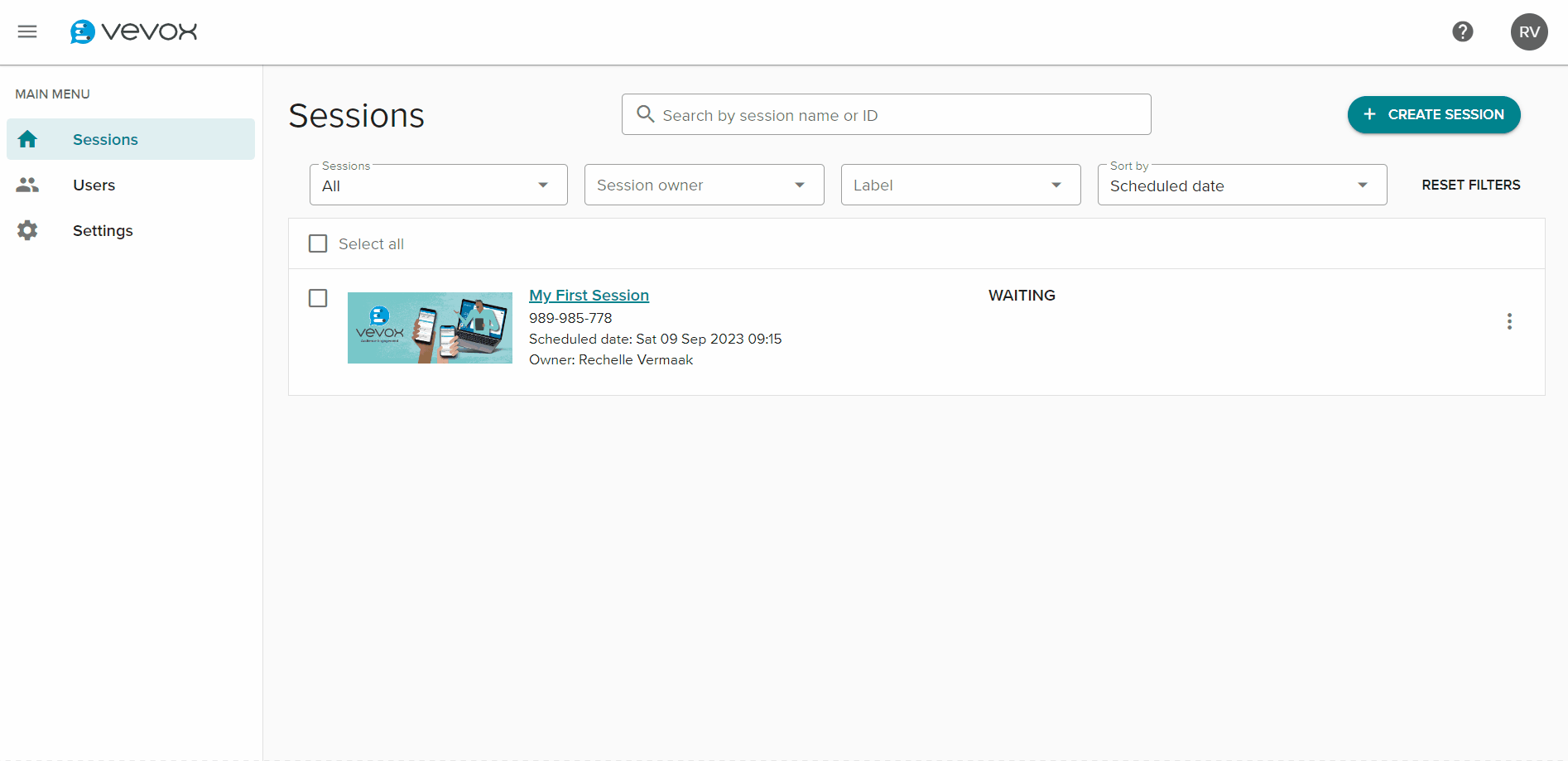 Go to the session list view.

Select the session(s) you want to label by selecting the tick box next to it.

Click on the 'Edit labels' option.

Then enter the new label name in the create a new label bar on the right and press the 'plus' sign. The label will now be added to your session.

You can add more labels by selecting the tick box or unticking them to remove them again. The labels will appear next to the session info in the session list.
Read more about using and adding labels here.
Watch this short video on setting up your first poll and launching it to your participants: