In this article we cover:
This video explains how to set up your laptop for PowerPoint polling.
To poll your question with your participants simply enter slideshow mode and run your presentation.
A quick way of entering slideshow mode in PowerPoint is by pressing the F5 key on your keyboard. This will take you to the start of your presentation. You can use 'Enter', 'Right Arrow' or 'Spacebar' to advance to the next slide.
There are 3 stages to running an interactive slide in PowerPoint.
Ready
Poll open
Results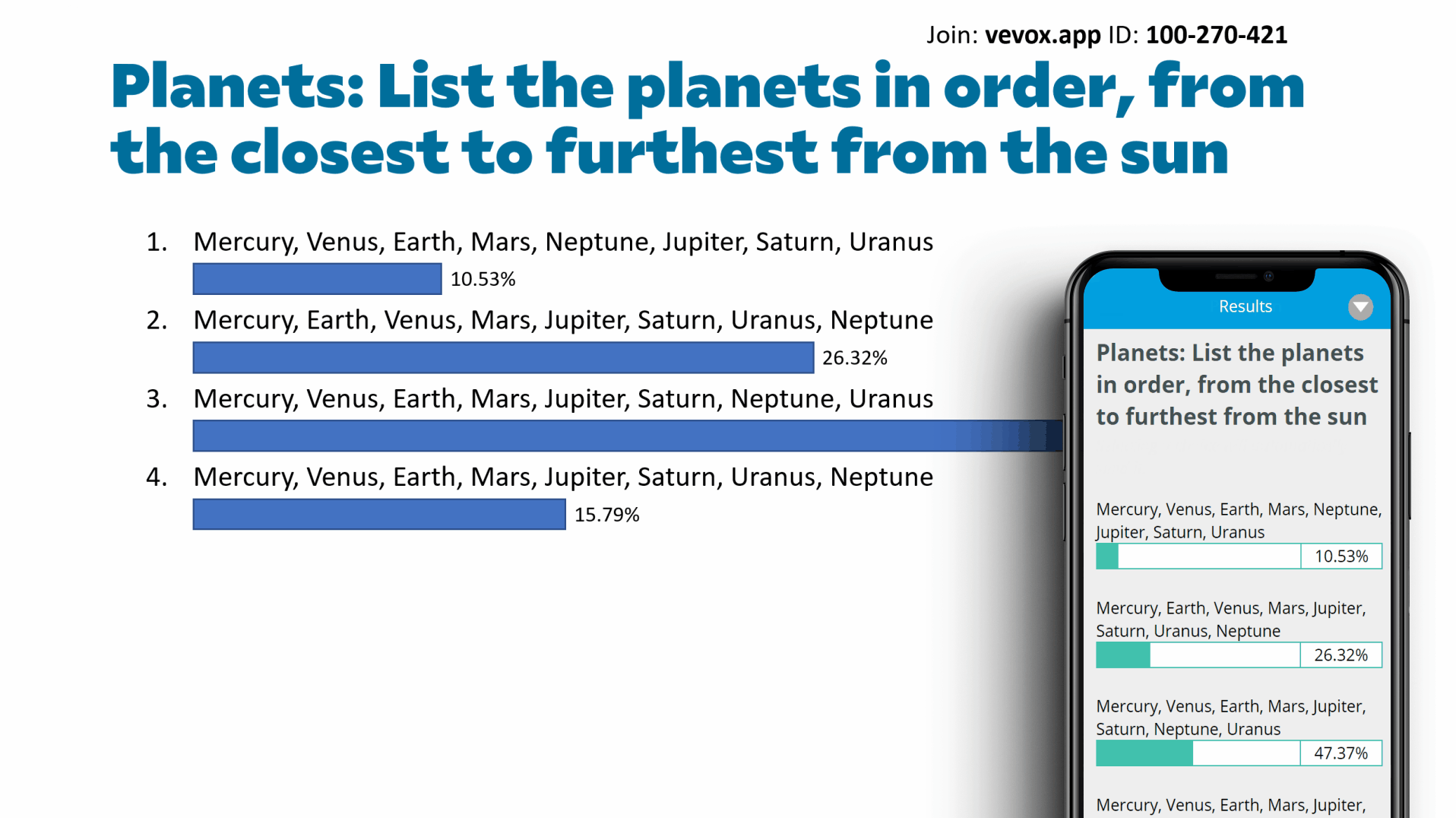 1. Ready
When your interactive poll slide is on screen this is the first stage that displays the text of the question. A control box will display on screen.

By default, this box appears in the top left corner of the screen. You can alter the setting of this box in the preferences menu in the PowerPoint ribbon under Poll Control > Position.
This control box is an indicator and a good reminder that this slide contains an interactive question. When you advance the slide the interactive poll will move to the second stage.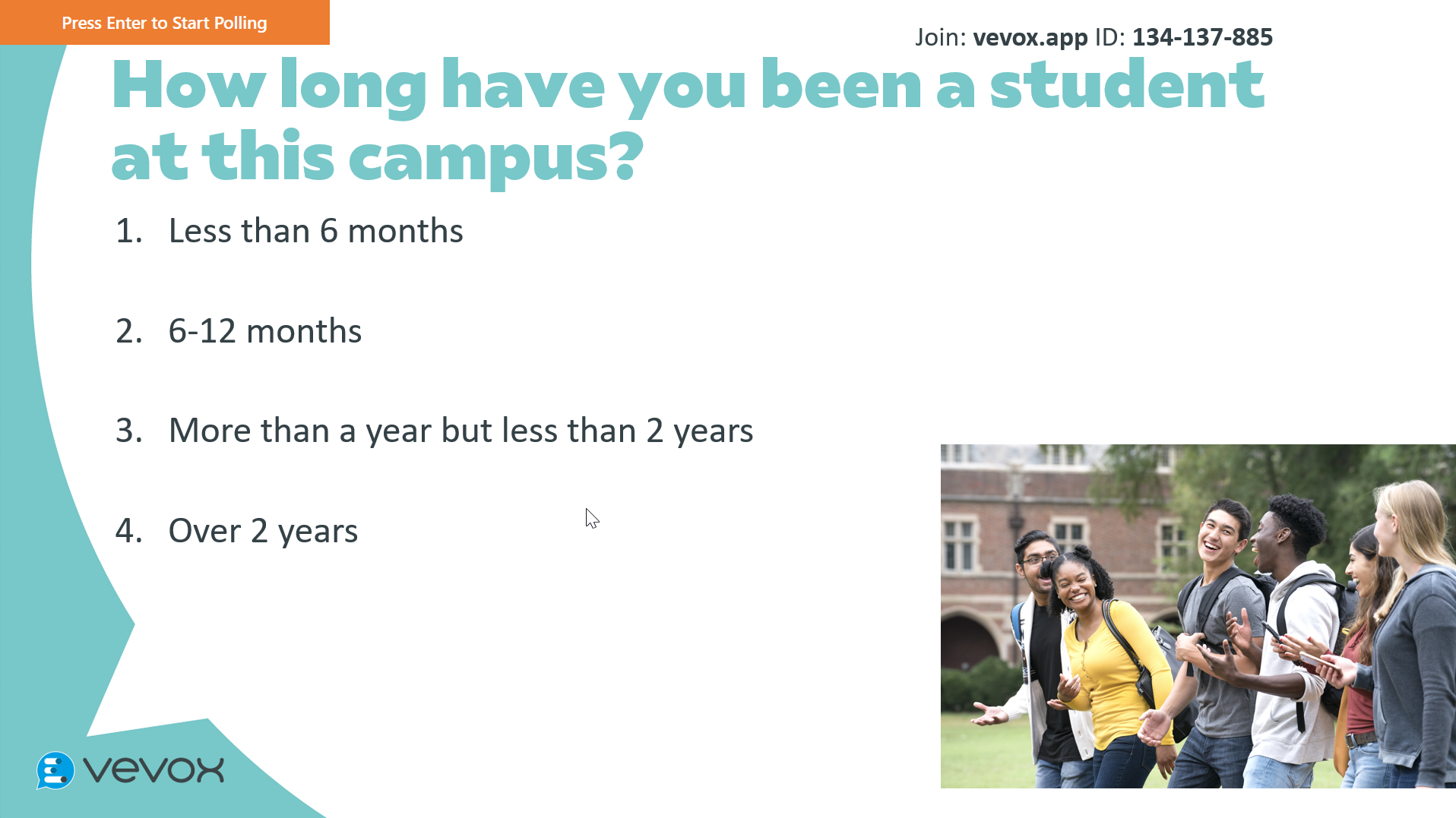 2. Poll Open
Once the poll is open the control box will change and display the number of respondents that are voting.

When ready to close the poll simply advance the slide as you normally would by pressing the 'Enter' key.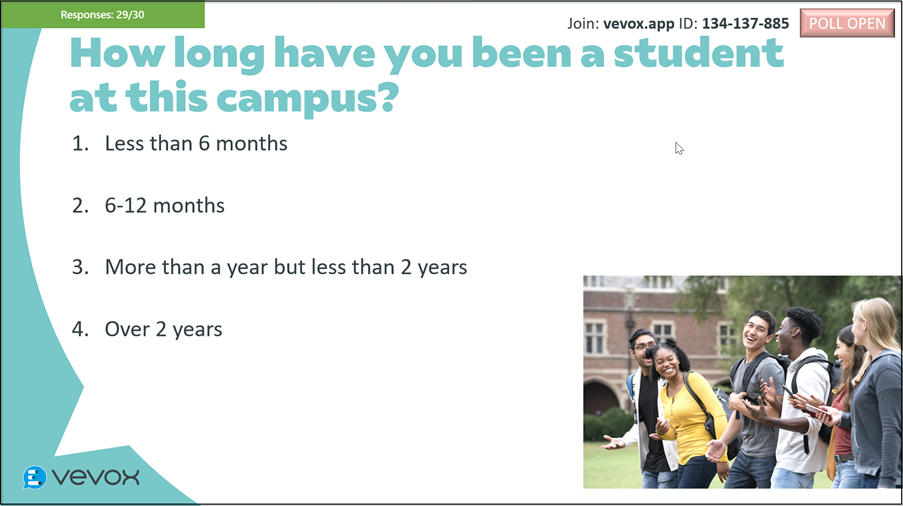 3. Results
When closing the poll, the results will be calculated and displayed in the presentation and on all connected devices.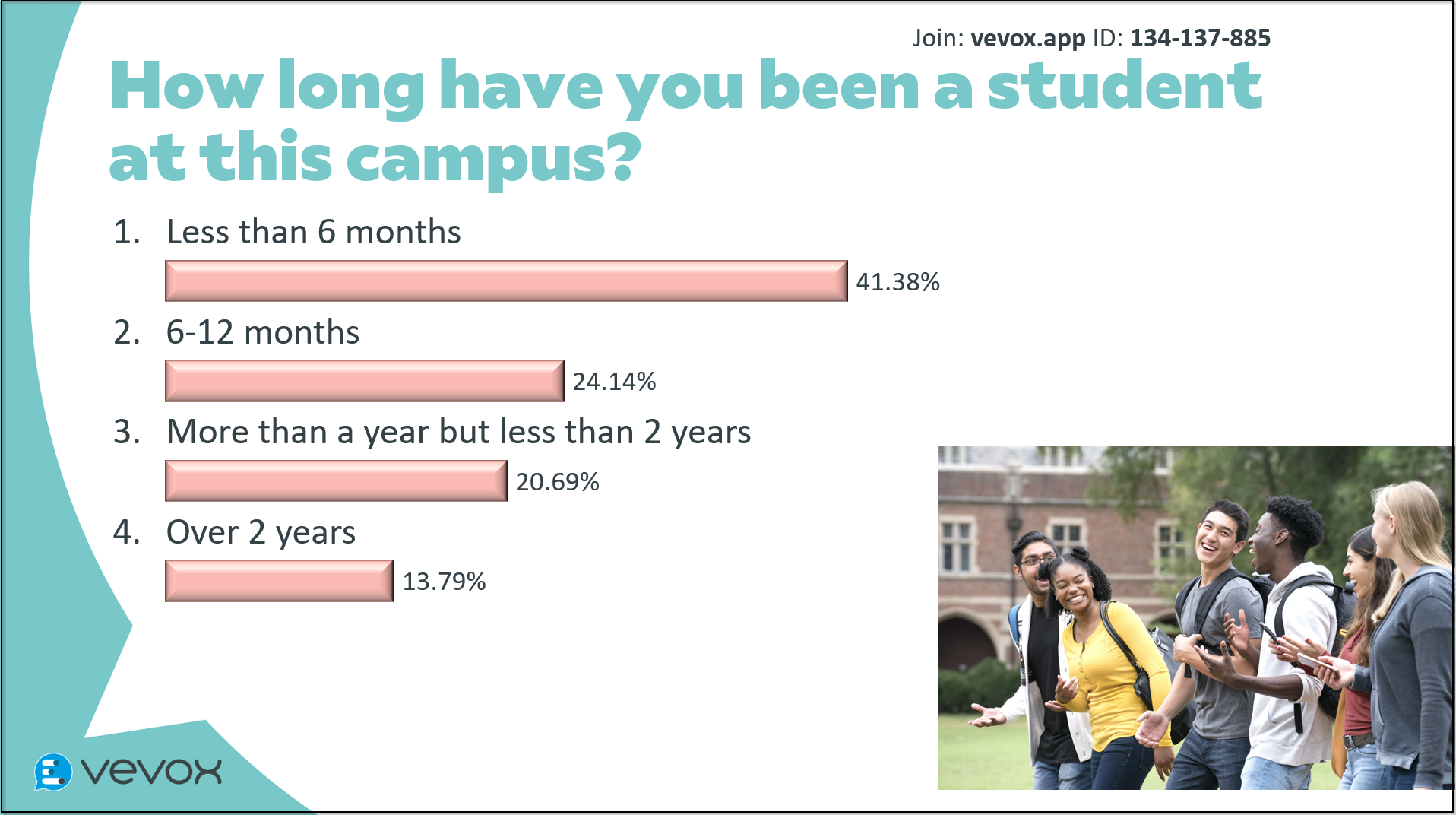 Note that unlike Present view, the responses can only be viewed once the poll is closed in the PowerPoint add-in.
All your polling results will automatically be saved on your polling slides in PowerPoint as well as in your meeting session in your Vevox dashboard. This allows you to share them with anyone whether they have the PowerPoint Add-in or not. Within the dashboard, you can also download an Excel report, result images, summary reports as well as the word cloud report.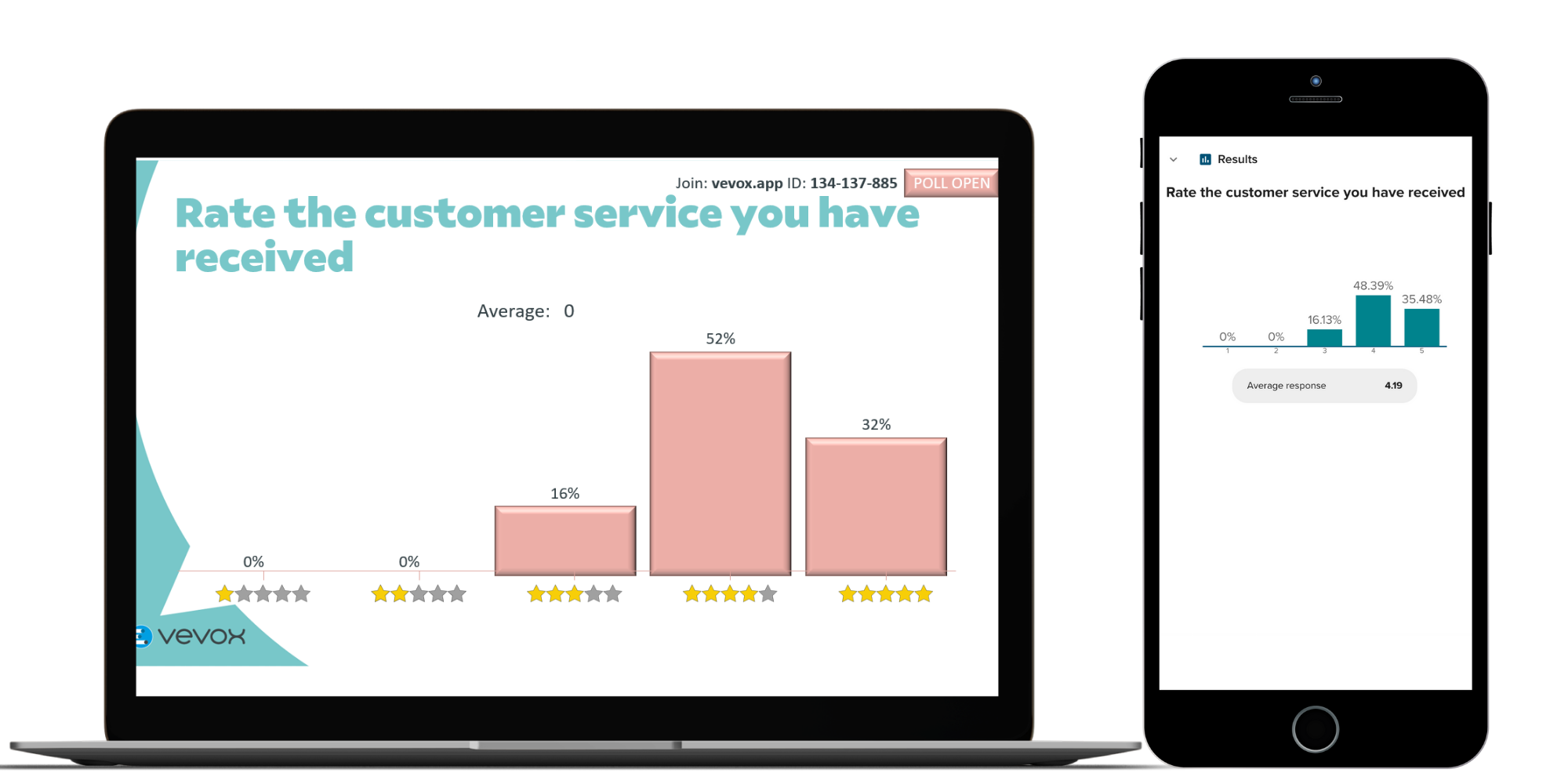 PowerPoint short cuts
PowerPoint has some simple, yet very effective keyboard short cuts to allow you to take the focus off the screen, jump to a supporting slide or run an ad-hoc audience vote WITHOUT needing to exit 'slide show'.
Whilst in 'slide show' simply…
Hit 'B'- to turn the screen black
Hit 'W'- to turn the screen white
(Press the same keys again to return to the presentation)
Enter the slide number you wish to display and hit 'Enter' to 'jump' to a slide. Great for ad hoc polls or hidden slides!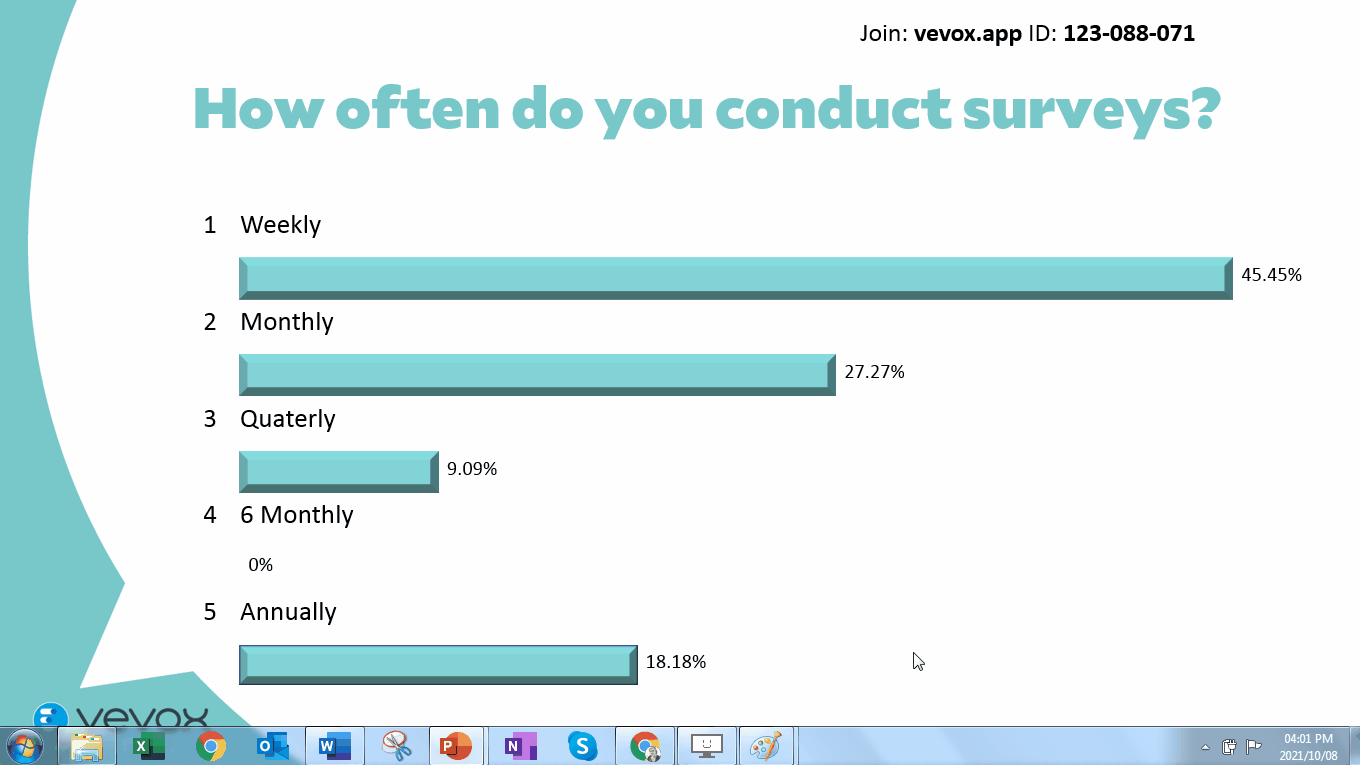 Troubleshooting
Note that Microsoft Presenter View is not supported in Vevox. Should you receive a warning notification, asking you if you would like to turn off Presenter view, select this 'Yes' option, as it interferes with how the Vevox polling animations are performing.