Sometimes you might want to share your display to another computer or tablet so someone else can look at it whilst your meeting is running.
If this person has access to your account you can always share the meeting with them and they can log in themselves (read more about that here).
The danger here though is you might not want to give that person the ability to manage your meeting, open polls or manage the Q&A. If you just want to let them view the display then this is the option for you.
We've included a feature to allow you share the display with another person just for this purpose and the display they see is a locked down version which won't let them open and close polls or manage the Q&A board.
Select the 'Sharing & Privacy' option from the 'more options' menu on the control bar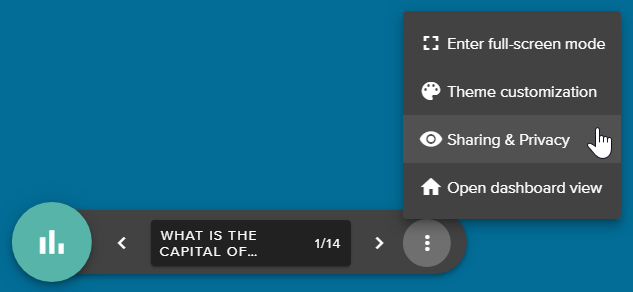 Select the generate share link button and it will produce a unique URL. You can copy this link and then email it to the person you want to be able to view the display.
If you are really security conscious and you don't want link to fall into the wrong hands you can also optionally add a password to protect the display. When the other person opens the link on their computer they will need to enter the password in order to gain access.