Questions & Answers (Q&A) is a great way to make your presentations more interactive. Increasingly, audiences don't want to be talked at, they want to be part of a conversation. Whether attendees are remote or in-person, spark participation with lively Q&As.
Participants can submit their own questions, ideas, or comments, as well as 'up vote' those from others, helping you to see what matters most. If you need to keep the conversation on track, discussions can be moderated. Take questions without a single raised hand. Profiles can be anonymous so everyone will want to join in whether they're in the room or attending remotely.
The Q&A board offers
4
key features:
Anonymity

– participants can raise their voices

without

the fear of standing out from the crowd.

Sort by 'likes'

- You can sort your participants incoming messages and questions by those that have received the most 'likes'.

Moderation

–

this feature

gives presenters complete control and peace of mind

that no unw

anted

messages are shared.

Host messages

– these are

messages that you send to your participants devices.
Want to get maximum reward for minimum effort, then the Q&A board is the feature for you. For an engaging Q&A session with no awkward silences, simply ask your audience to contribute their questions at any point through the Vevox app on their phone and devices and to 'Like' any others they would like to see answered.
Example of mobile device view of Q&A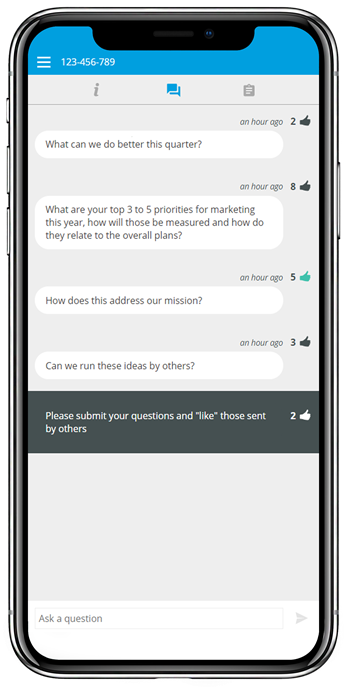 By default Q&A is up and running, clicking on 'Present' shows joining instructions as well as the incoming questions. It even sorts them to the show the most popular at the top. If you do not have enough time to answer them all, all your Q&A comments are stored for you to answer through other communication channels such as a newsletter or in a future meeting.
Example of present view of Q&A on a big screen or shared computer screen.