In this article we cover:
1. On the audience display
The leaderboard or scoreboard can be shown at any time you like and is available to all Vevox plans. It will appear in Present view on the computer screen or the big screen. As soon as you have asked the first question which has a correct answer it will appear on the control bar (click the trophy icon) as an option to be displayed.
You can display it:
after each question,
after a group of questions or
keep the suspense building and wait until the very end.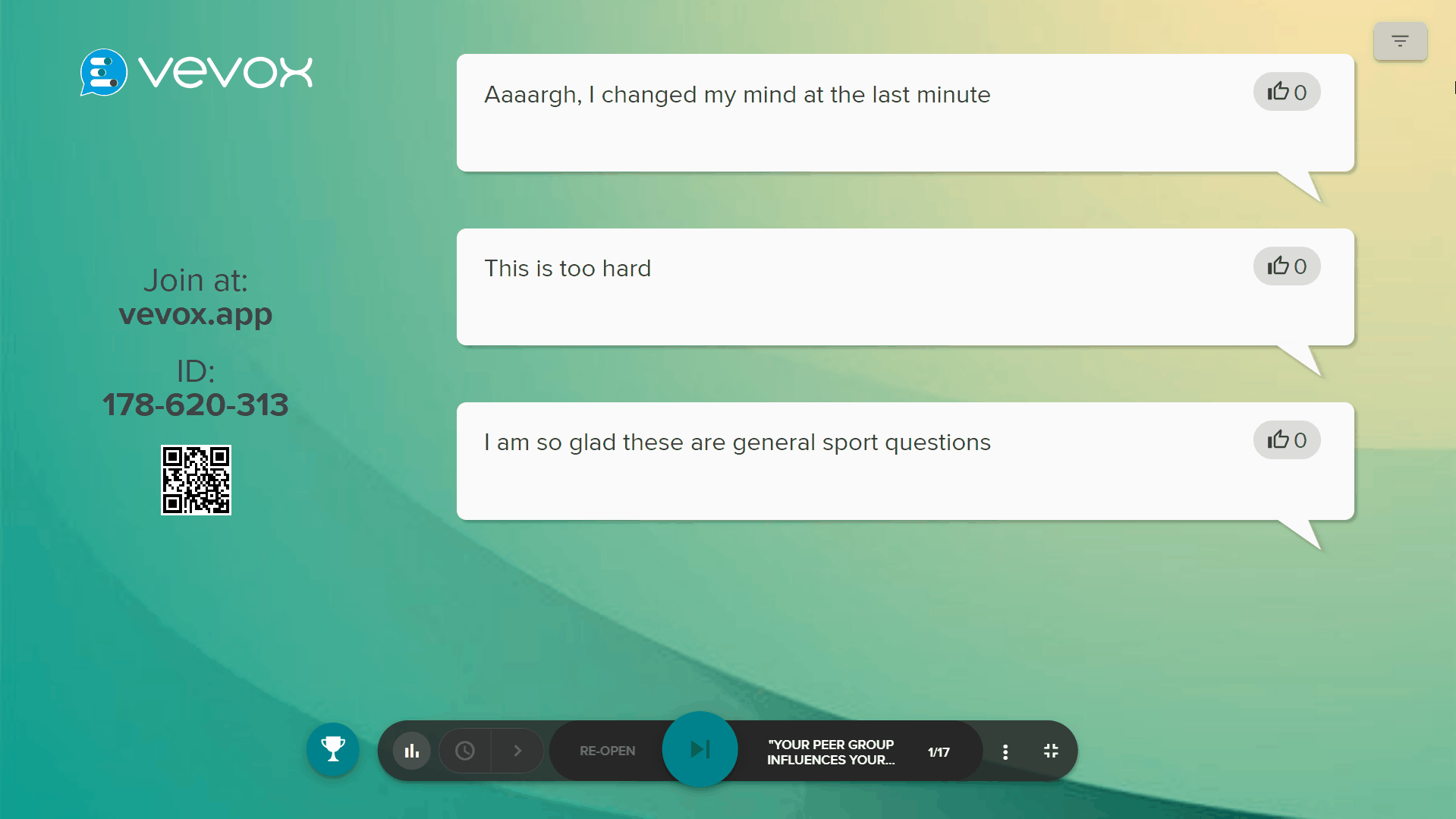 What does the leaderboard show?
The purpose of the leaderboard is to give the presenter and the audience an overview of how the group has performed as a whole during the quiz.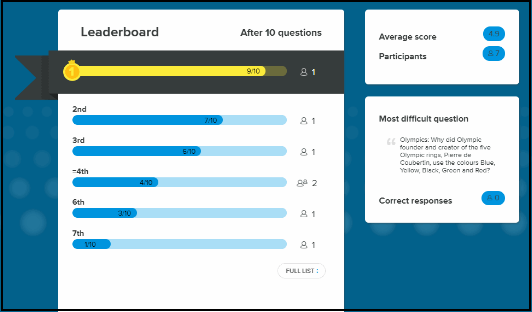 The leaderboard displays:
First place, the number of questions they have answered correctly, and how many people have achieved this position.
Subsequent places, depending on tied scores the placings can differ but for each place, you get to see how many questions they answered correctly and how many participants achieved this position.
The number of questions asked so far.
The number of participants that have taken part.
The average score of all participants.
The most difficult question or questions (and how many participants answered it correctly).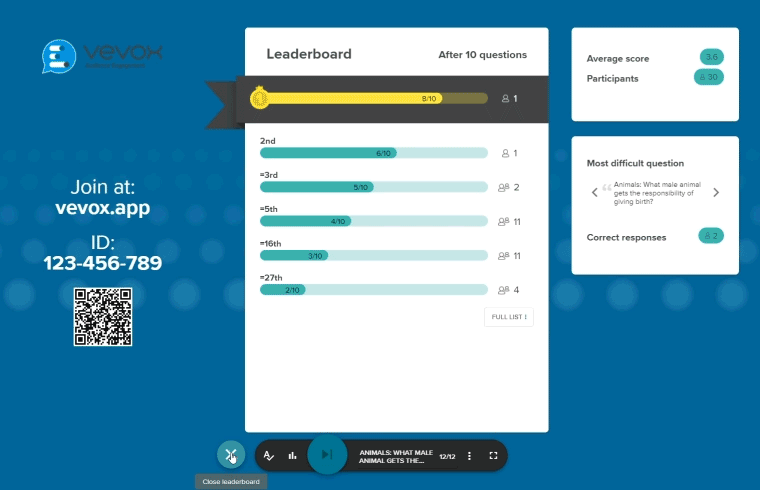 Learn more about what the participants will see on their device screens when displaying a leaderboard.
If your leaderboard has an equal sign next to the place number, it will indicate that more than one participant is sharing that place. In this example, you can see that two participants have the same score sharing 4th position. The next position in the scoreboard will then jump to place number 6th on the leaderboard, instead of 5th.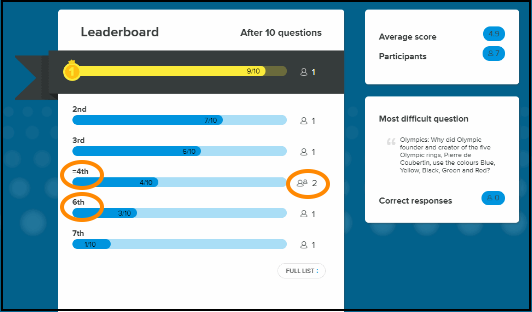 2. On participant devices
As soon as you share the leaderboard to participants on present view (the audience display), participants will also receive an individual scoreboard on their mobile devices indicating their position so far during the quiz. It will update each time you display a leaderboard.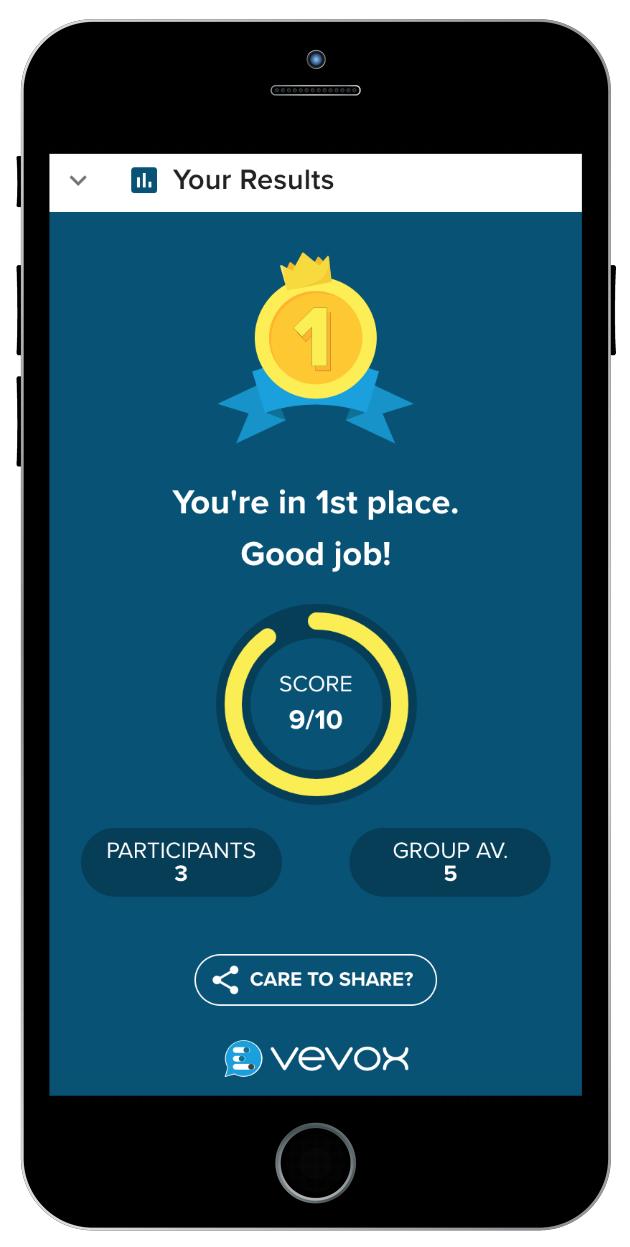 Example of a quiz scoring in a Microsoft Teams meeting. The leaderboard will show in the mainframe/screen share of the Teams meeting with the individual score showing in the side panel.