If you are going to allocate scoring for your polls, show a leaderboard or include a quiz in your PowerPoint presentation, take the following into consideration:
Ensure that you have selected the scoring option to identify a correct answer when setting up the polls. Without correct answers, there will be no scoring or

leaderboards

.

Not all polls need to have correct answers if not desired. 

Vevox

 will allocate one point per poll when a participant has answered the poll correctly. 

If a multichoice poll was set up in such a way that the participant needs to choose more than one correct answer, the system will only allocate one point per poll if ALL the correct options were selected by the participant.  

When a participant fails to submit a response while the poll is open, no score will be allocated for that specific poll.  

Currently, we do not offer speed scoring.  

The

Leaderboard

slide can be placed throughout your presentation to display the results or alternatively the latest results so far from a quiz.
Steps to set up a

leaderboard

:

Select the 'Add Analysis Slide' option from the PowerPoint ribbon.

From the pop-up box select the 'Leaderboard' analysis type.  You will see a list of all the questions in your presentation that contain a correct answer, these are the questions that will be used to create the leaderboard.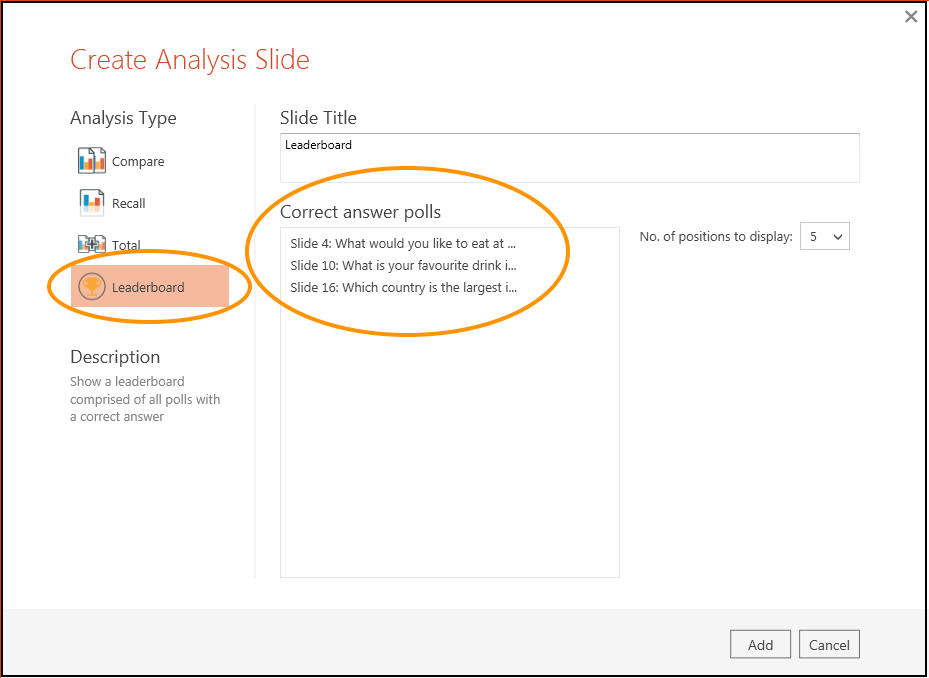 Press 'Add' to insert the leaderboard into a new slide.
You can add as many leaderboards to your presentation as you wish. The leaderboard will always show the cumulative scoring.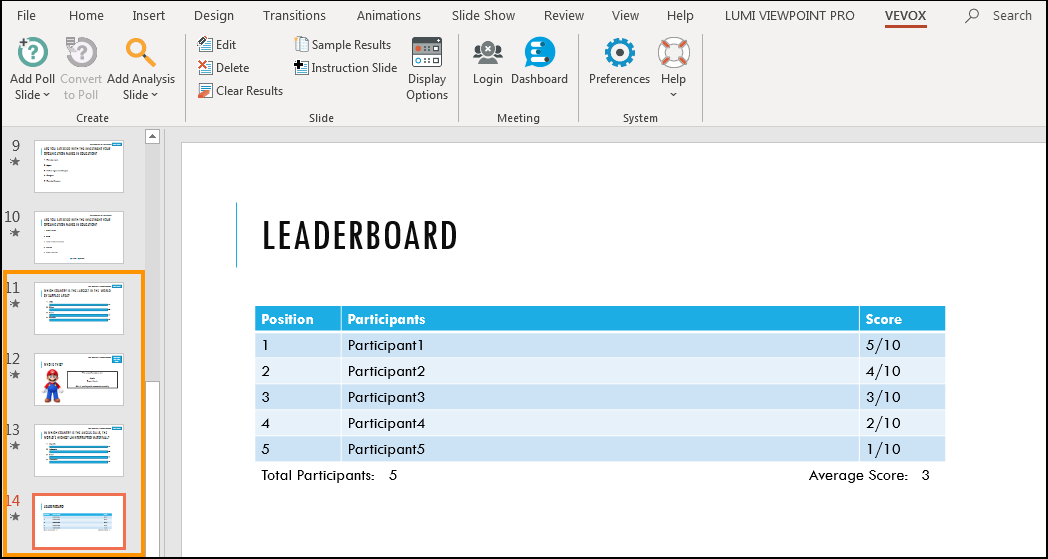 When you run the
leaderboard
slide you will get a:
List of the top participants with their positions and scores

How many participants are sharing a position (if applicable)

The number of participants taking part

And the average score of all your participants
Participants will see the leaderboard display on the computer/big screen in PowerPoint as well as an individualized leaderboard display on their mobile devices.
Anonymous leaderboard
This shows an example of a leaderboard in an anonymous meeting.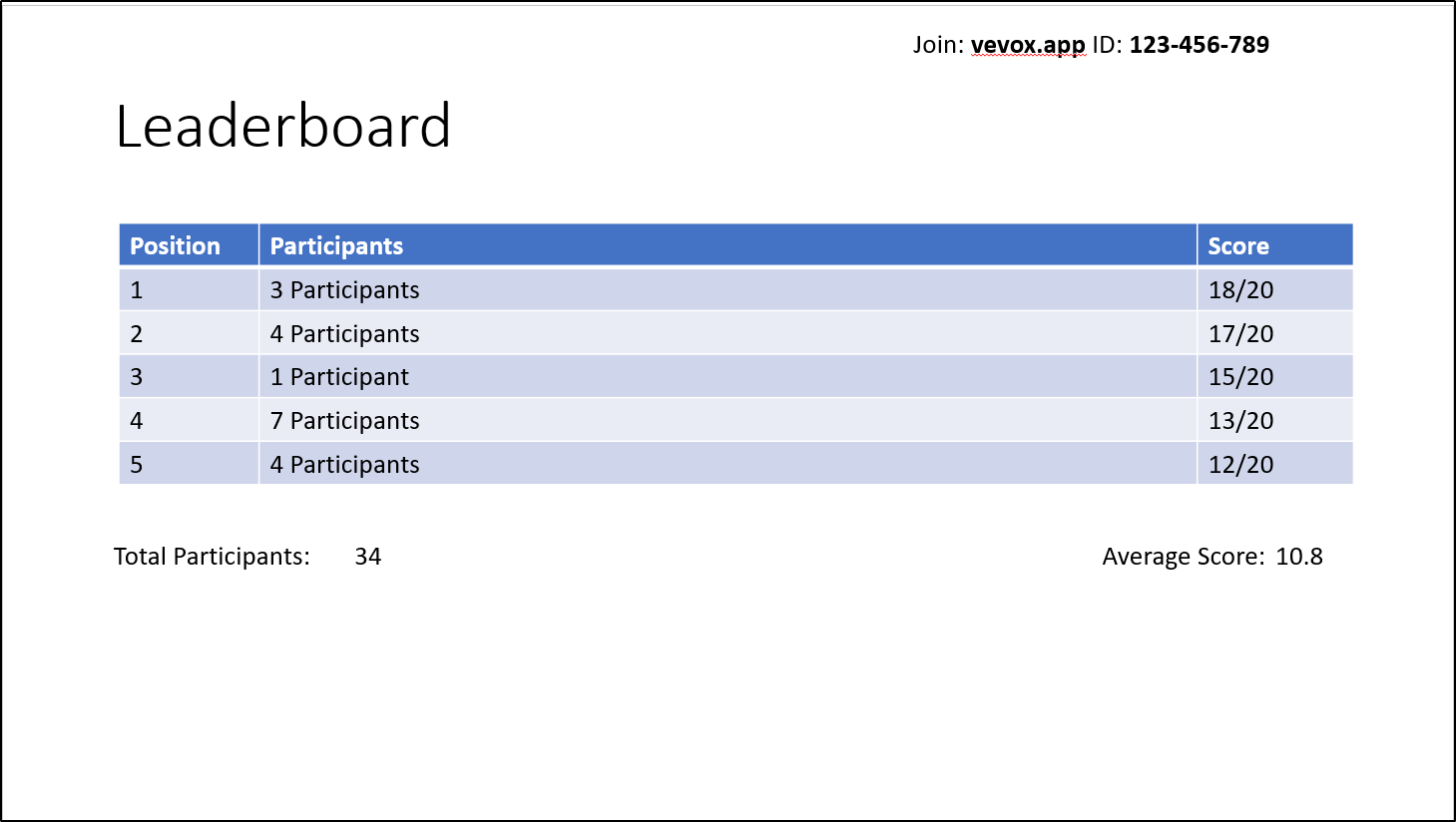 In this example you have:
You have 3 participants that share position number one with a score of 18 out of 20.
In second position you have 4 participants each having a score of 17 out of 20.
In third position, you only have one participant with a score of 15 out of 20.
You had a total of 34 participants taking part in the quiz.
The average score per participant was 10.8 correct answers out of 20 questions.
Identified leaderboard
This shows an example of a leaderboard in an identified meeting with names.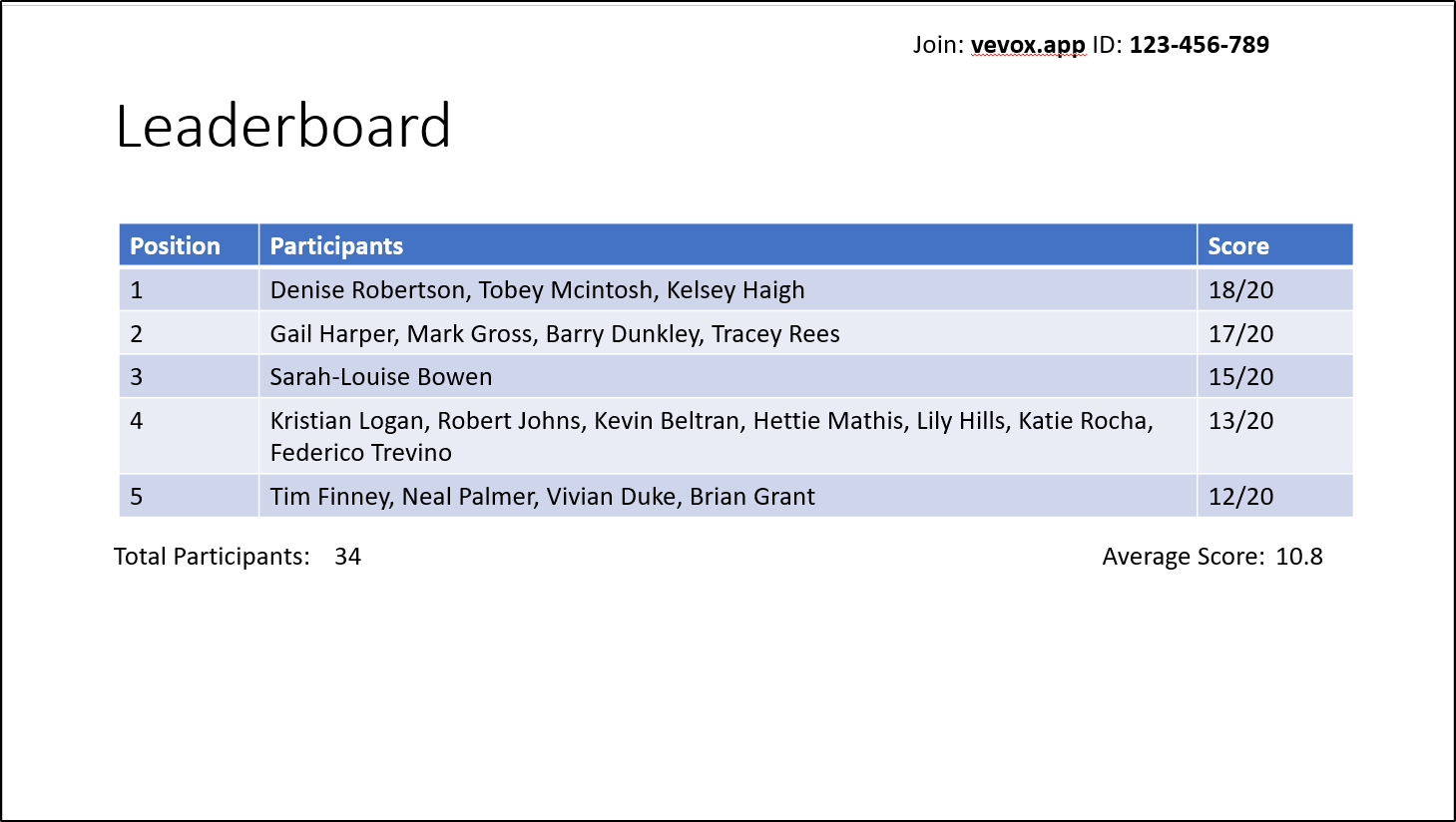 Watch this webinar from time stamp 20:19  to see how to add a leaderboard to your PowerPoint slides.  https://youtu.be/EqlYO4mLPMA