This feature is only available to Pro Plan users.
As a Pro Plan user, you might want help hosting a session, collaborating with more team members, getting colleagues to set up and edit polls and surveys or moderate the Q&A sessions.
If you have purchased your Pro Plan (or upgraded from another plan to a Pro Plan) with your credit card, you can easily buy additional Vevox licenses online. These additional licenses can be bought anytime and will immediately be active. 
When you have a Free/Starter/Presenter plan, you need an upgrade to the Pro plan before purchasing additional users online.
If you have an Institutional/Enterprise plan, contact your Vevox account exec to purchase more licenses or email us at support@vevox.com.
To confirm your plan, click on the profile icon in your Vevox dashboard. A dropdown will appear, indicating your plan.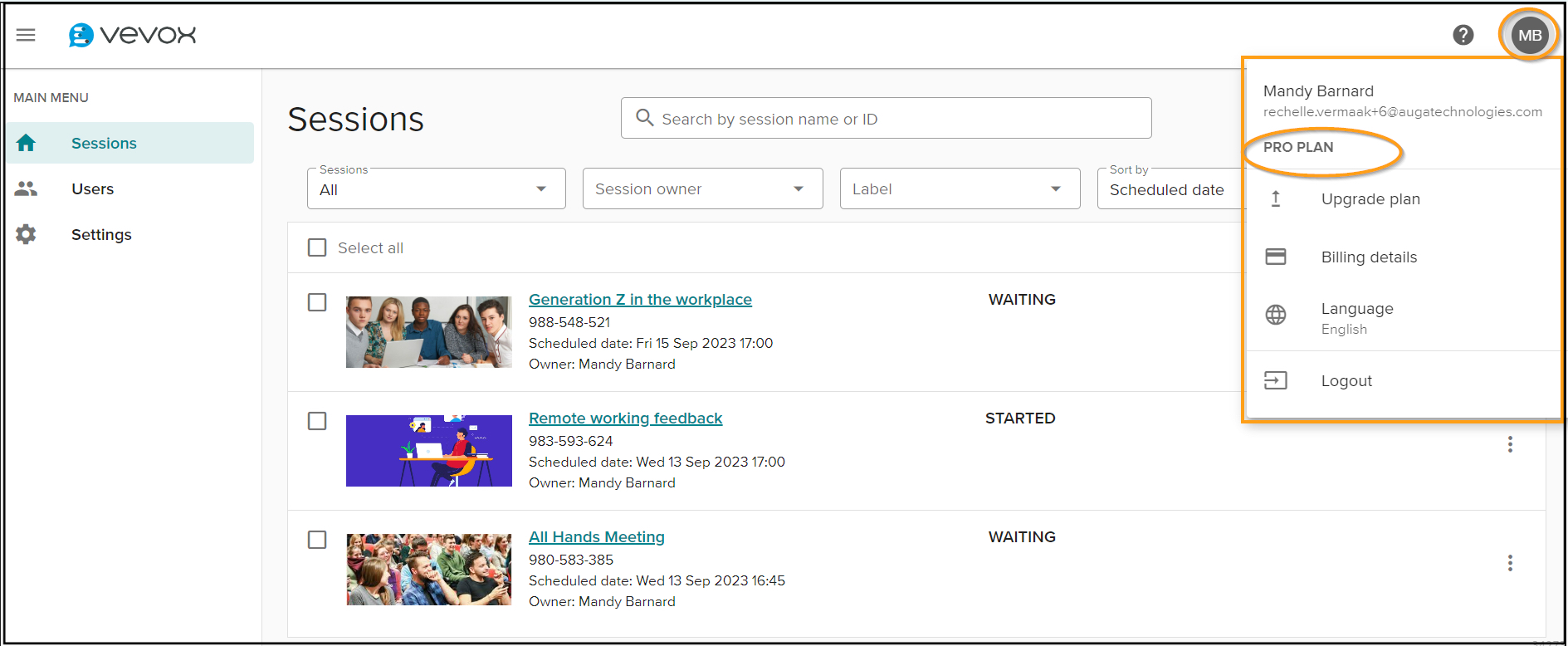 In this article we cover:
How to purchase additional licenses from the dashboard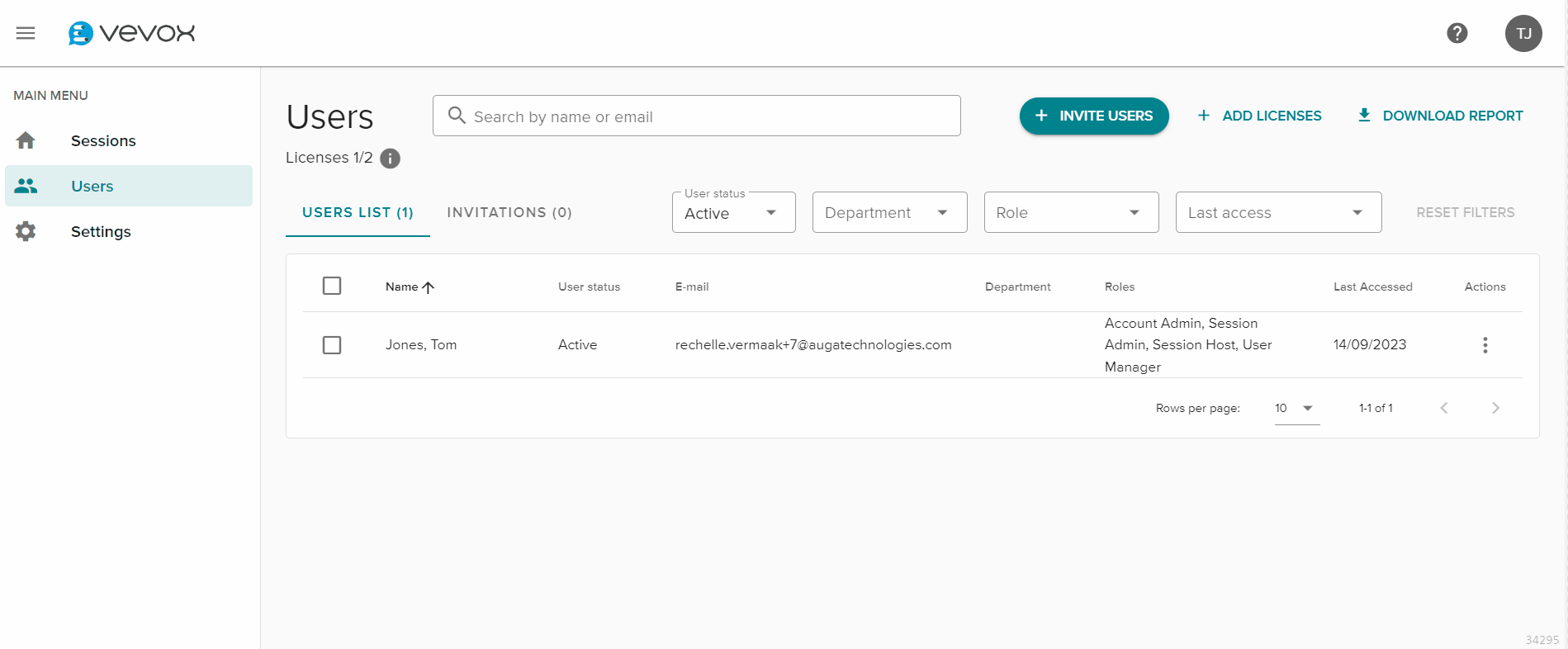 From your main menu, select Users and then choose 'Add Licenses.' (You can see that you have one user registered out of two licenses available, as a Business Pro plan has 2 user licenses included. An Education Pro plan has only one user included.)

This will give you a summary of your plan and the annual cost. Press the 'Add Addons' button.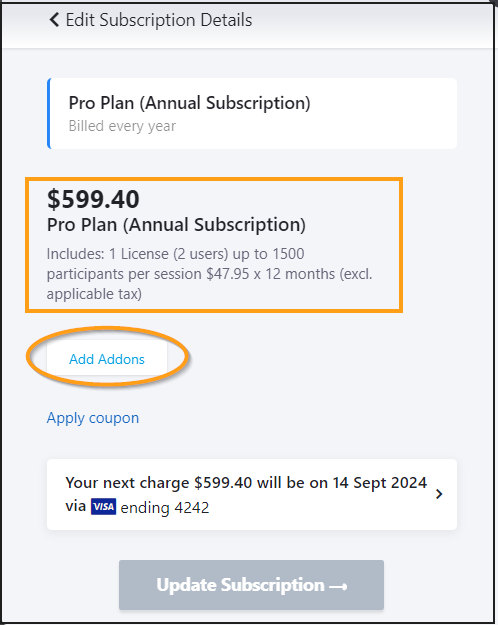 Click on the tick next to the Additional Dashboard User. A message will confirm that you can add another user for £240/€287.40/$299.40/AUD 449.40 per Business Account or £114/€137.40/$155.40/AUD 215.40 for an Education Account. Then press the 'Add (1)' blue button. (You can add more licenses in the next pop-up).
.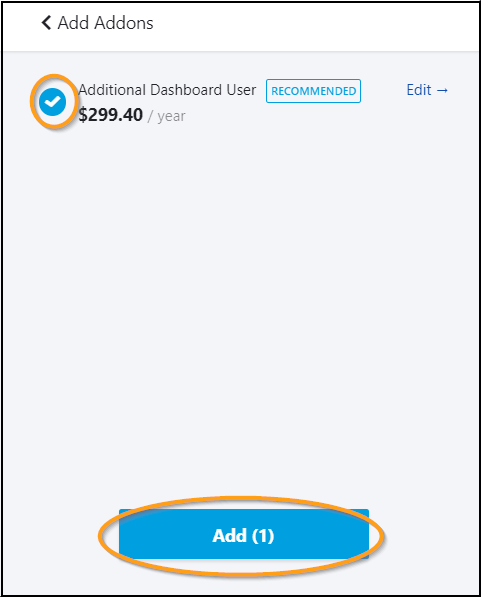 You can add your additional users/licenses from the edit subscription details using the plus sign. (In this example we will add 3 more licenses, and as the Business Pro plan has two user licenses already included, it will bring us to a total of 5 licenses.) Confirmation of the billing amount will appear at the bottom. To view your order summary, click on the arrow next to it.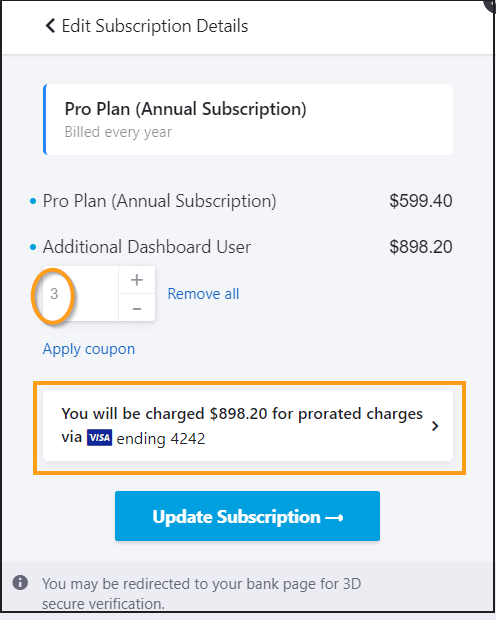 Here we can see that you have chosen to purchase an additional 3 licenses for $898.20 that will be payable now. On the next billing cycle, you will be charged for a Pro plan plus an additional 3 licenses.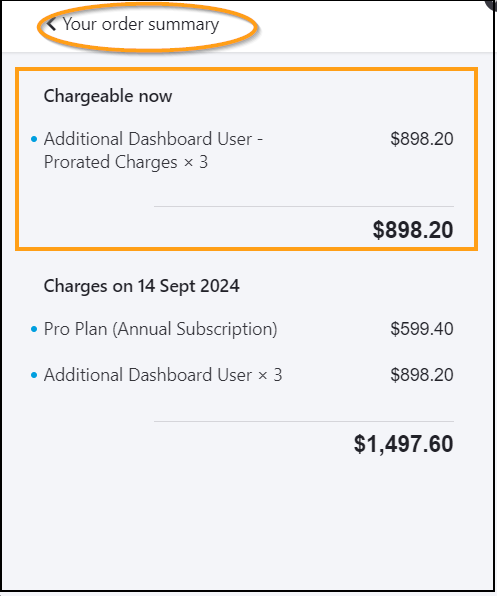 Return to the order by clicking on 'Your order summary' at the top. Now select the blue button 'Update subscription.' Your credit card will be charged with the 3 additional licenses.
When you purchase additional users, their license cost will be calculated pro-rata for the remainder of your billing cycle.

Once you have purchased additional licenses, you will get an invoice emailed to you.

Your additional licenses will be visible in your dashboard under the 'Users' option in the main menu. Here you have one license registered from 5 licenses available. (If you have an unlimited number of users in your plan, the number of licences will be omitted here.) 

After you have purchased additional licenses, you can invite more users to the account. Read this article to invite and add more users to your account.
How to purchase additional licenses when upgrading to a Pro plan
If you know you want to buy additional licenses from the start, you can do it simultaneously when upgrading to your Pro plan.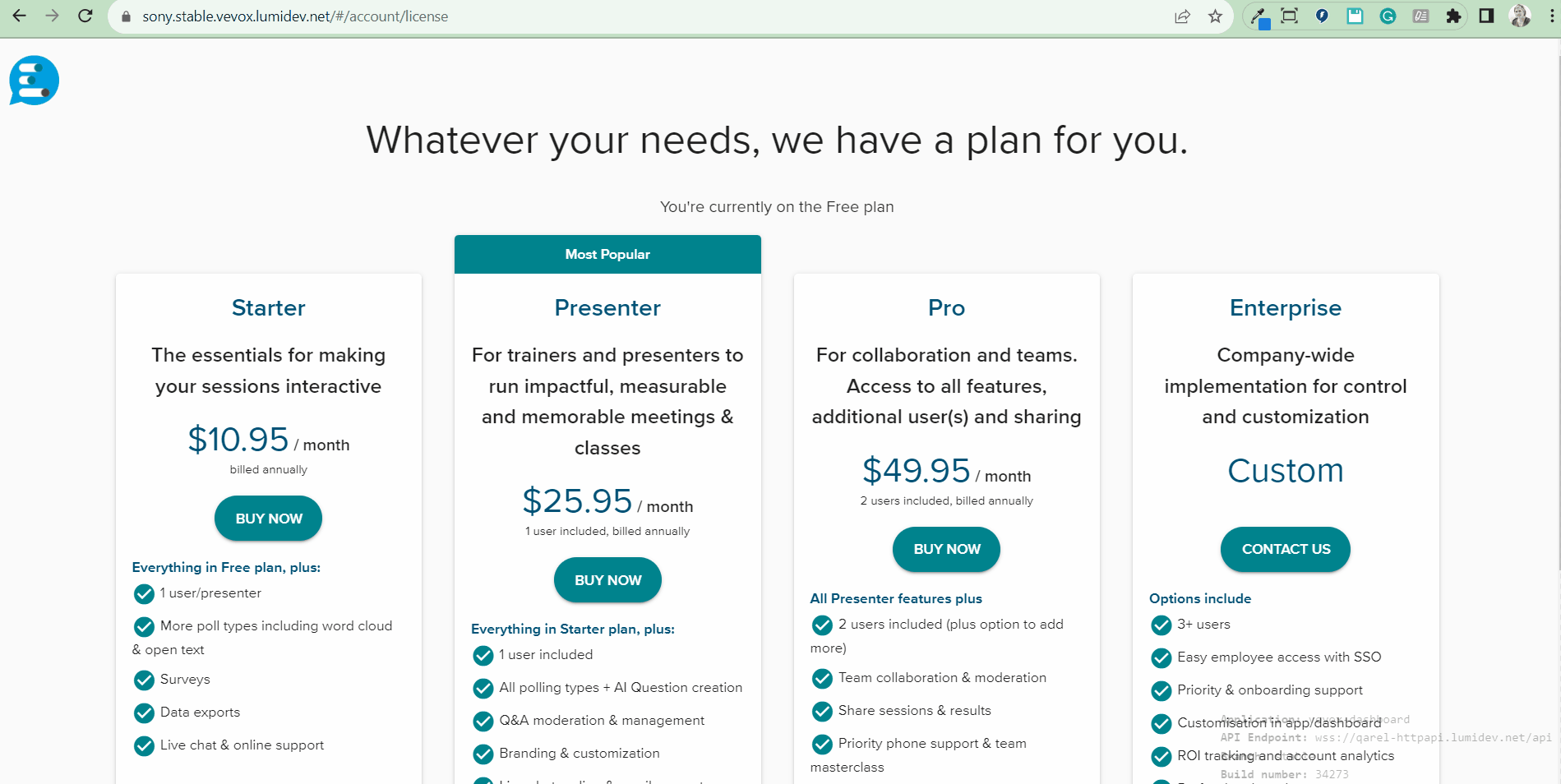 Removing licenses from your Vevox account
If you have purchased additional licenses online and want to reduce your number, it will only reflect in the next billing cycle. In other words, when your next annual renewal comes up, it will indicate the reduced number of licenses, and you will only be invoiced for the reduced number of licenses.
To reduce your number of licenses, do the following:

From your account dropdown, choose 'Billing details.' This will give you a summary of your plan and the annual cost.

Click on the actual plan and then select 'Edit Subscription Details.' A detailed breakdown will appear, indicating the Pro license cost and the number of additional users in the account. (In this example of a Business Pro plan, 2 users are already included, plus the three additional users. So, this account has 5 users in total.)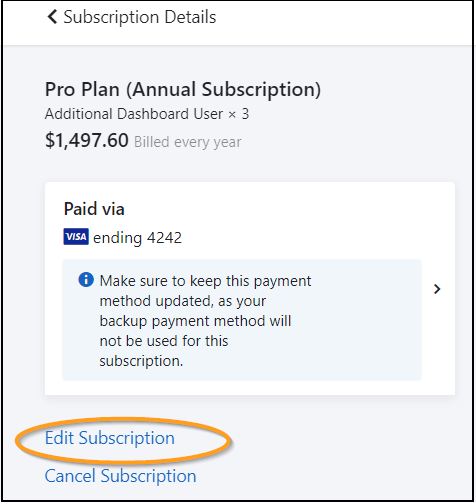 Use the minus icon to reduce the number of additional users. (For this example, we will remove 2 additional users). A summary of your next renewal charge and date will indicate how much and on what date your annual renewal will take place. Click on the arrow to see the breakdown.
These removals will only take effect at your next billing cycle.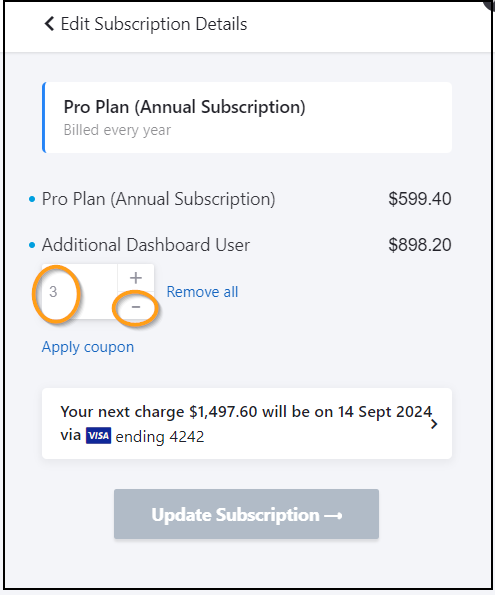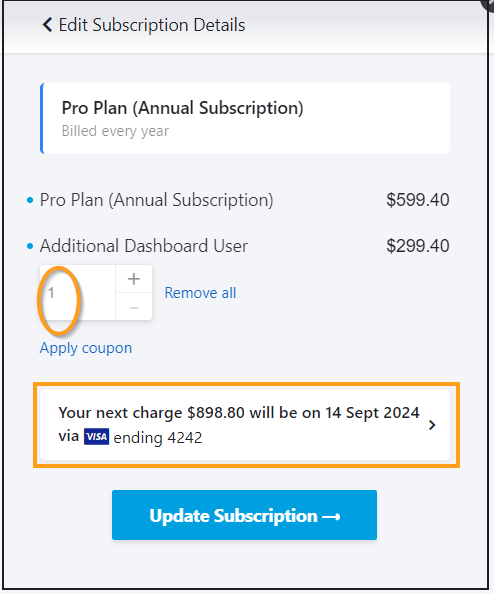 Now press 'Update Subscription.' You can view your amended number of licenses under the 'View scheduled changes' to confirm your next billing amount at the end of your subscription cycle.
Note that no refunds will be issued. Only the number of licenses will be reduced.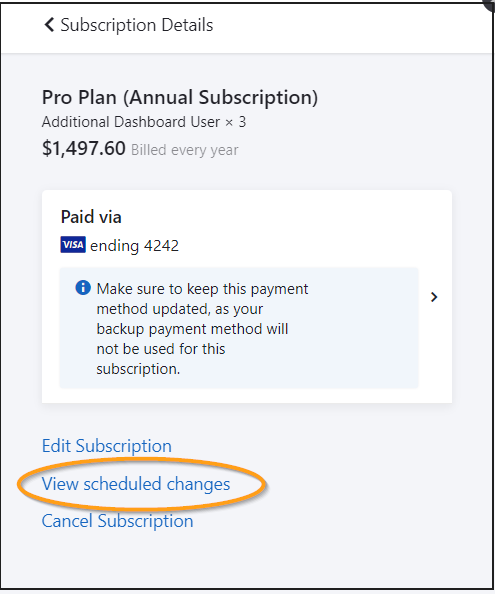 .