Joining your meeting from PowerPoint is simple. All you need to do is log in and enter your Meeting ID.
Follow these instructions if you have set up polling with the Powerpoint Add-in from Vevox:

Open PowerPoint and select the Vevox tab from the PowerPoint ribbon.


Select the 'meeting icon'. If you are disconnected from the meeting, the icon will be grey and display the text 'Login'.

Enter your email and password in the corresponding text fields.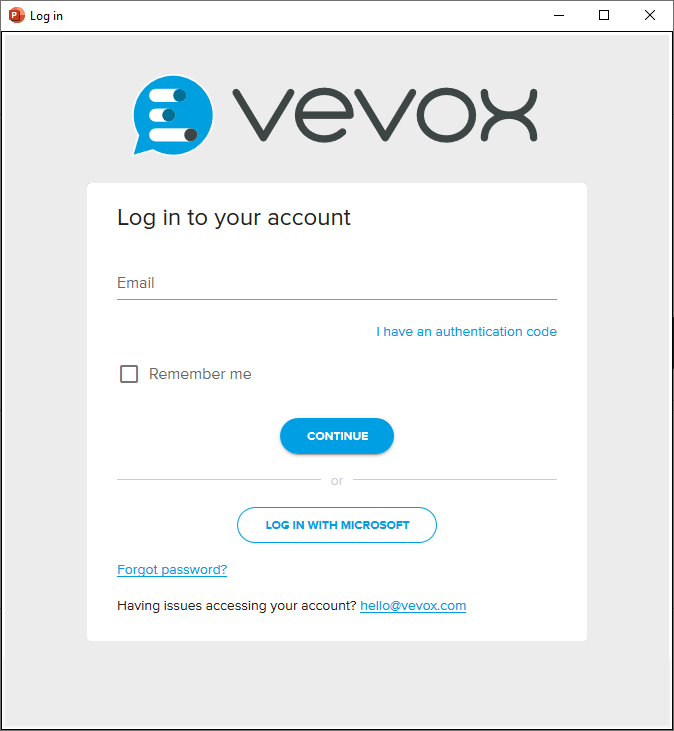 After entering your login credentials you will be prompted to choose the Meeting you want to connect to. Select the meeting from the drop-down list and press connect.
Meeting States
By default when a Vevox meeting is created it is in the 'Waiting' state. The state of the meeting is displayed in the Vevox ribbon in PowerPoint. Before you can start polling, your meeting status needs to be in 'Meeting Started' mode.



Starting Your Presentation
If your meeting has already been started from the Vevox online Dashboard then everything is ready to go to start asking your participants questions.
If your meeting has not been started, it is not a problem. When you start the presentation by going into Slide Show mode (press F5) you will be prompted to start it. All other current meetings in your meeting list will be placed in the 'Waiting' status.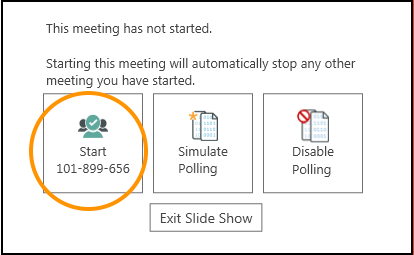 Simulating polling results
From here you can also simulate polling results without having participants answering your actual questions. The Vevox system creates simulated results. This functionality can assists presenters to understand how the slides will appear with voting results on.
Remember to clear all results before you start the actual polling.
Both the 'clear results' and simulating functionality can be accessed from the PowerPoint ribbon.


Disabling polling
A presenter or host can also run through the meeting & presentation deck in PowerPoint while the polling is disabled. This way no results will be collected.