We recommend testing or practicing your polls with some mobile devices before your live event, online meeting, or class. It is important to clear these test results that are now linked to your polls. Remember to do this before the actual event or meeting day. Or you can do it straight after your test run.
When you have asked a poll you will be able to see a screen like the one below, from your dashboard.

Select the poll you want to clear.

You can see a summary of the result of the poll.

When a poll has results it is not possible to edit the poll.

Select the drop-down menu for further poll actions.

Press the 'Clear Results' button.

Deleting the results of a poll is an irreversible action so you will be prompted to confirm the action. To continue press 'OK' when asked to confirm the deletion.
The poll will be back in the state it was when you created it and you can now make some edits or ask the poll again.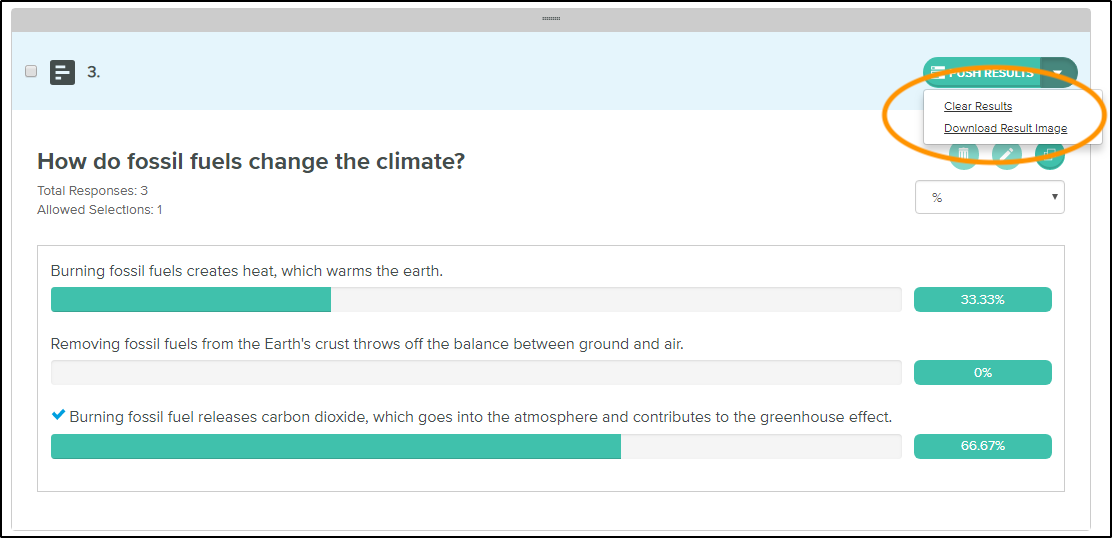 You can also clear all the results of a meeting all at once.
Go to the 'Data' option in the navigation menu on the left. Select the 'Clear all data' option from the report summary. Note that this action can not be undone, and should be used with caution. When you have done a dry run or trial run and you want to delete the test responses, choose this option before you run your polls again.