In this article we cover:
The numeric poll allows participants to enter any number within a range that you specify.
This is a restricted feature for all the Vevox FREE ACCOUNTS. If you want to use numeric polls, please
upgrade your account
.
To create a basic numeric poll follow these steps:

In the Polls section select the '+ Create new' button.

Select Numeric as the poll type.

Enter the 'Question title' or question of your poll.

If you prefer, add an image to the poll question by clicking on the picture icon. Either upload a preferred image from your computer or use the built-in library of licensed images. (If you have a Free account, you will not have access to this feature.)

Select the Maximum and Minimum values you would like your participants to vote between by typing in the relevant numbers.

Press 'Create'.
You also have access to the following additional features with numeric polls:
Indicate the correct answer if there is.

Allow answers with up to two decimal places.
Allow for a margin of error for the correct answer.
When you choose to set up a numeric poll your poll card will look like this: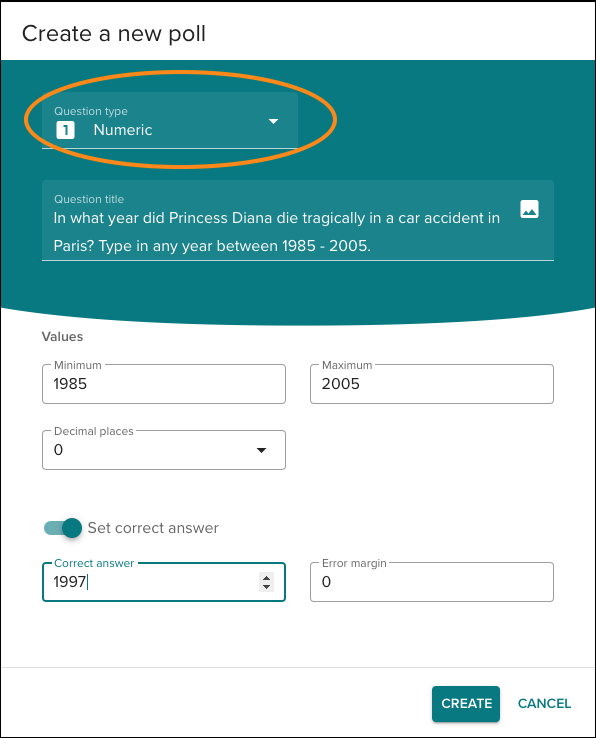 1. Minimum & Maximum value
With numeric polls, you can allow participants to enter any number within the range that you specify. In this example, participants can only enter a numeric value between 1850 - 1950. The minimum & maximum value will automatically be specified on the participants' mobile devices just below the question. You do not need to add the minimum & maximum values in the question title.
2. Using decimal places
When you select the decimal places box, you can allow participants to answer their numeric poll with up to two decimal places. In this example above, we did not use decimal places and kept it at zero.
3. Correct answer
Another feature of the numeric poll question is to set a correct answer. Simply tick the correct answer checkbox to enable this and then enter the value of the correct answer. In the last example below, we specified the answer as 1997. A correction mark will indicate the correct answer in present view as well as on participants mobile devices.
4. Including a margin of error
Lastly, as an extra option, you can enter in a margin of error for the correct answer. The margin of error means that participants that answer above or below the correct answer within this margin of error will also get the answer correct. If we selected the margin of error of 3, and the answer is 1896, then all answers from 1893-1899 would have been accepted.
You can see which participants answered correctly in the downloadable data report.
Watch this video to get more ideas for numeric polls.