In this article we cover:
Self-paced quizzes are available on Starter plans and up.
Why use self-paced/asynchronous quizzes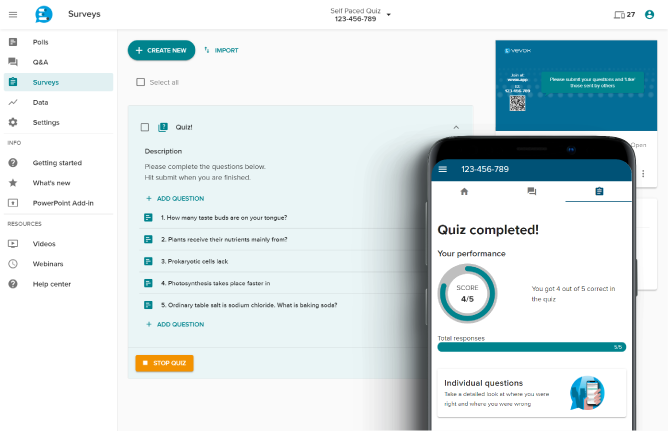 Self-paced quizzes (also called asynchronous quizzes) give participants the opportunity to fill in the quiz at their own leisure, get scored and see correct answers as well. This is ideal for asynchronous learning in the education environment where a lecturer might want to test students understanding of a subject after the course or class. A self-paced quiz will ensure you can leave the quiz open for an extended or specified time and students can answer the quiz at their own pace. 
Students or learners will get immediate feedback to their answers after completing the self-paced quiz so they can identify where they were wrong. They can also see the correct answer or even get an explanation – a great way for formative assessment.
Self-paced quizzes are set up under the survey section as it is actually a survey feature with the benefit of getting individual scores.
For self-paced quizzes note the following:
Participants will get an individual score at the end of the quiz on their mobile devices, even if it is an identified or anonymous self-paced quiz.

Participants can see the correct answers after they have completed the quiz.

Participants cannot go back and change their answers once they have submitted the answers in the quiz.

If a question is skipped in a self-paced quiz, no score is allocated.

If you want to announce a winner, your

participants need to be identified

so you can check in the data report the name of the winner. 

The session host can still get all the data from self-paced quizzes in the survey tab of the Excel reporting.

In a self-paced quiz, a mixture of feedback questions (where there is no correct answers) can be mixed with quiz questions (where scoring is applicable).

Remind your participants when the quiz will start and when it will end again.
Difference between quizzes and self-paced quizzes:
Quizzes happens in a live environment where all participants need to answer in a set time.

Quizzes shows a leaderboard comparing quiz scores from all participants (it can be anonymous or identified). Self-paced quizzes only show the individual's score and is personal to the user. No comparison with other participants' scores.
Watch this short video on how a self-paced quiz works and what a participant will see in the quiz. 
Steps to set up a self-paced quiz in the survey function:

 Create a session card.

 Select 'Surveys' from the navigation menu.

 Press the '+ Create new ' button.

 Click on the word 'New survey' to give your quiz a name. You can also click on the description to change the quiz description that participants will see on their devices before they start completing the quiz. Alternatively, keep the current description as it is.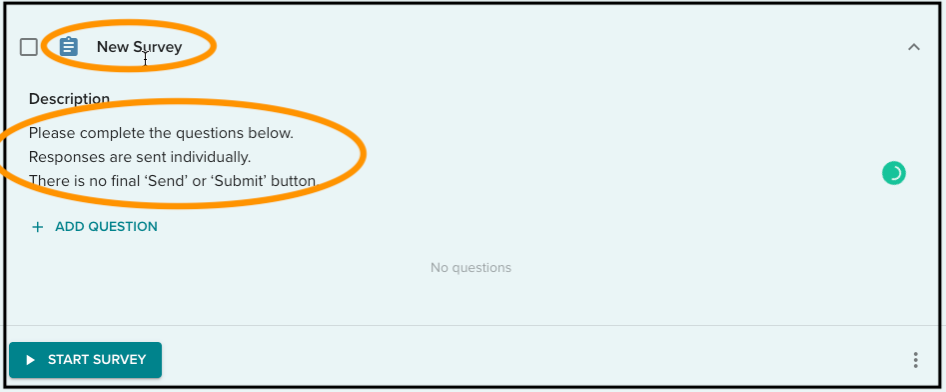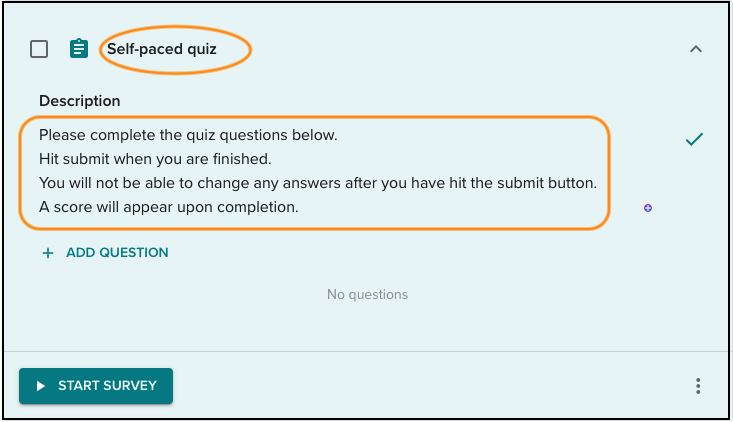 The next step is to add some questions. Adding questions to a survey works the same way as creating live polls.

 Press the + Add Question button.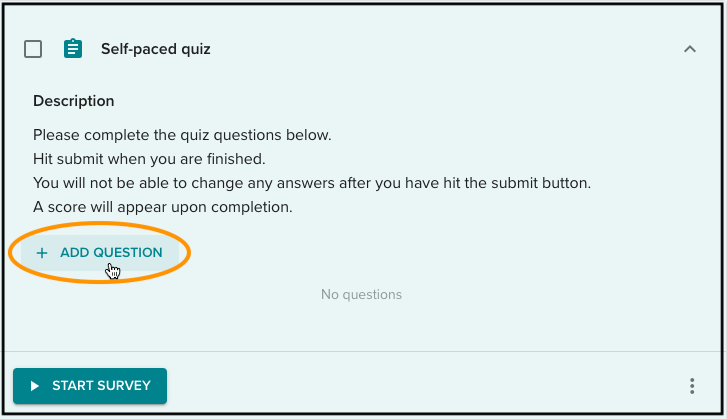 Select the type of question you would like to create. You can choose between multichoice, rating, text, numeric and Pin on image question types. (Word cloud and XY plot are not available in surveys.) 

 Enter the title of your question.

 Enter the choices and set the correct answer for the question.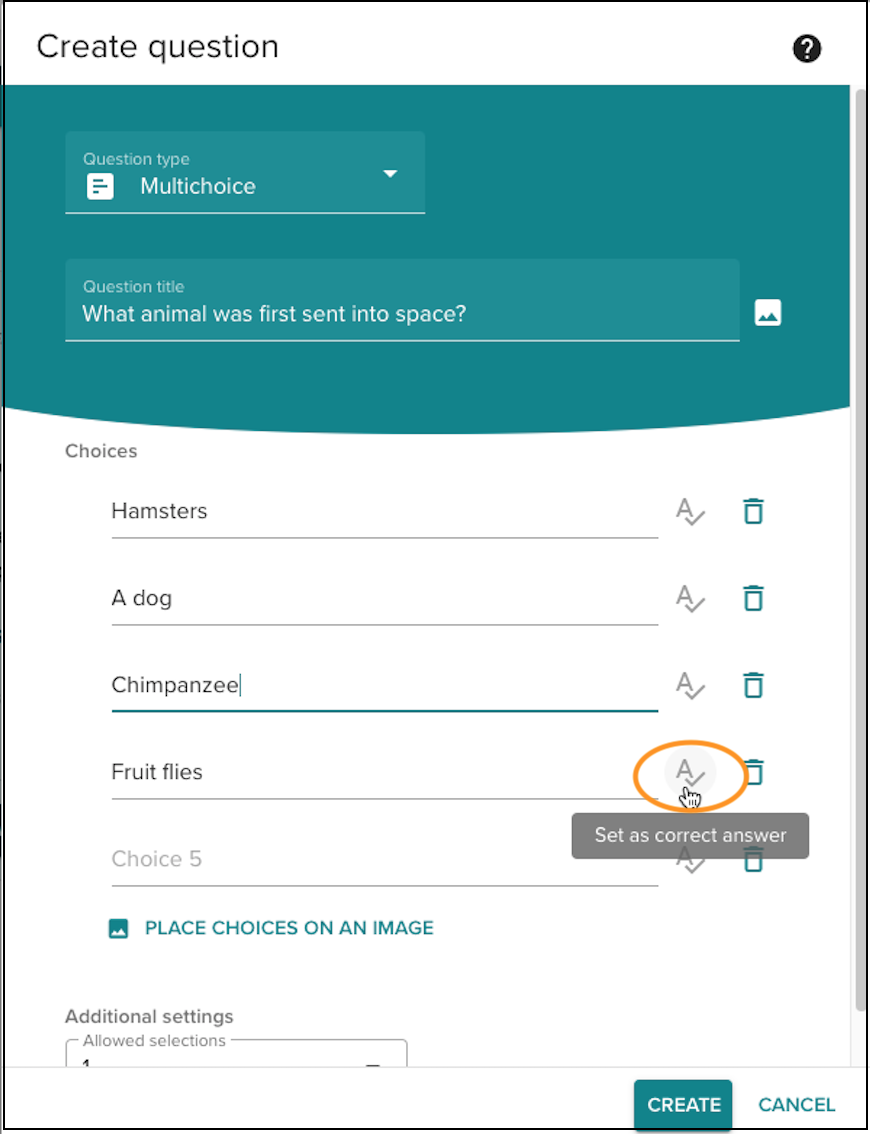 As soon as you add a correct answer, a notice will appear indicating that the survey has now changed to a self-paced quiz. Close the notice and add a correct answer explanation if applicable.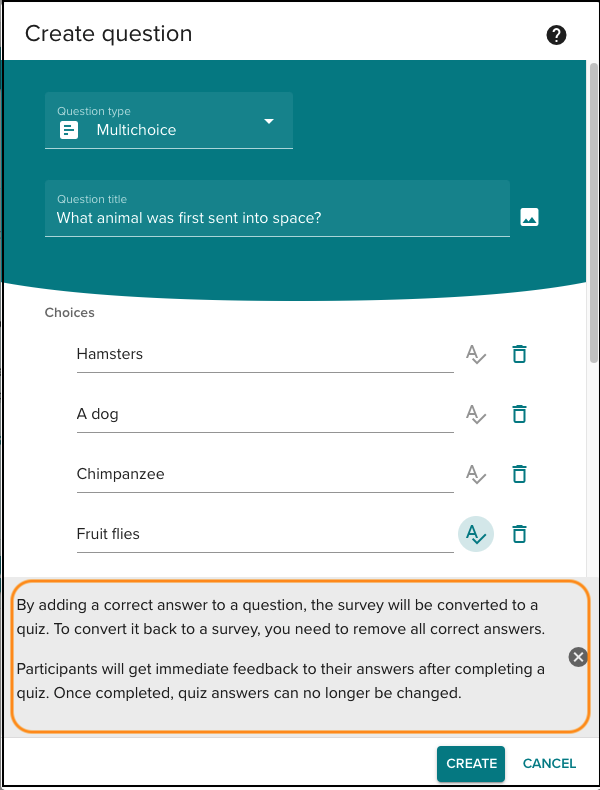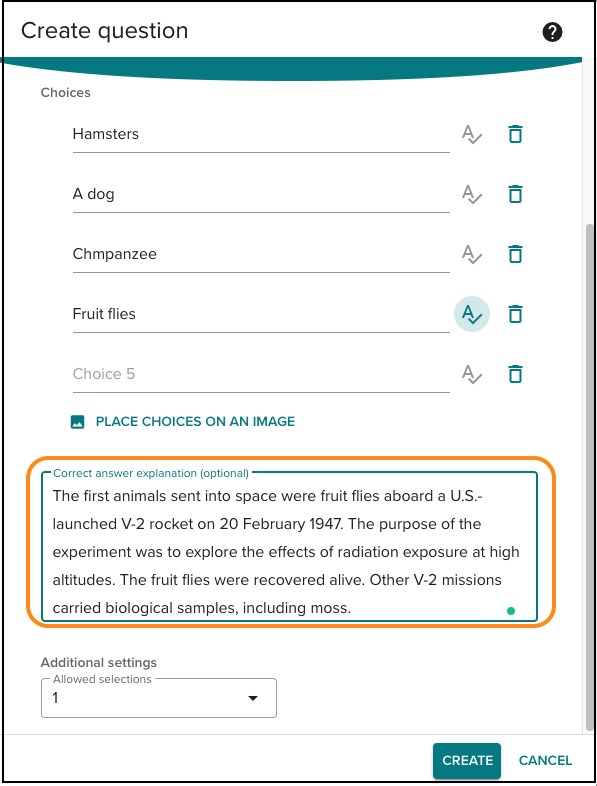 Press 'Create'to save your question. When you hit 'Create' the icon next to the survey name will change to a question mark and the 'Start Survey' button will change to 'Start Quiz' button.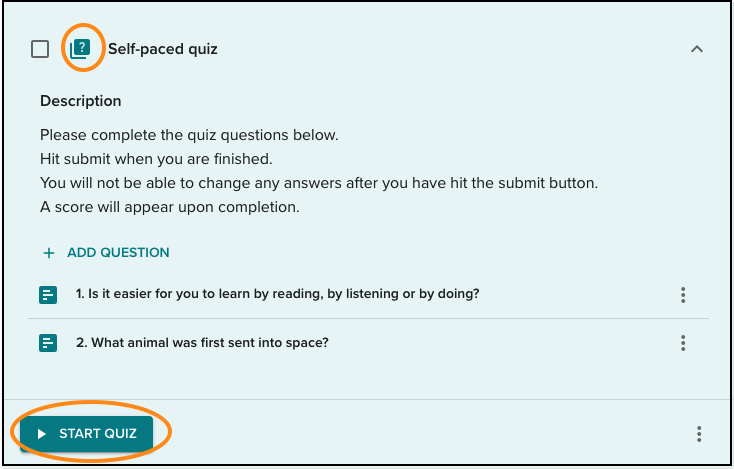 Repeat this process to add multiple questions to your quiz. Not all questions need to have correct answers. Some questions can be feedback questions, or questions that can help you better understand the students' preferences.

 Remember to start your quiz by selecting the 'Start Quiz' button. This will ensure students can see the Quiz in the Vevox app or browser. 

Also, remember to activate your quiz by ensuring it is in 'Start mode' by pressing the 'Start Session' option.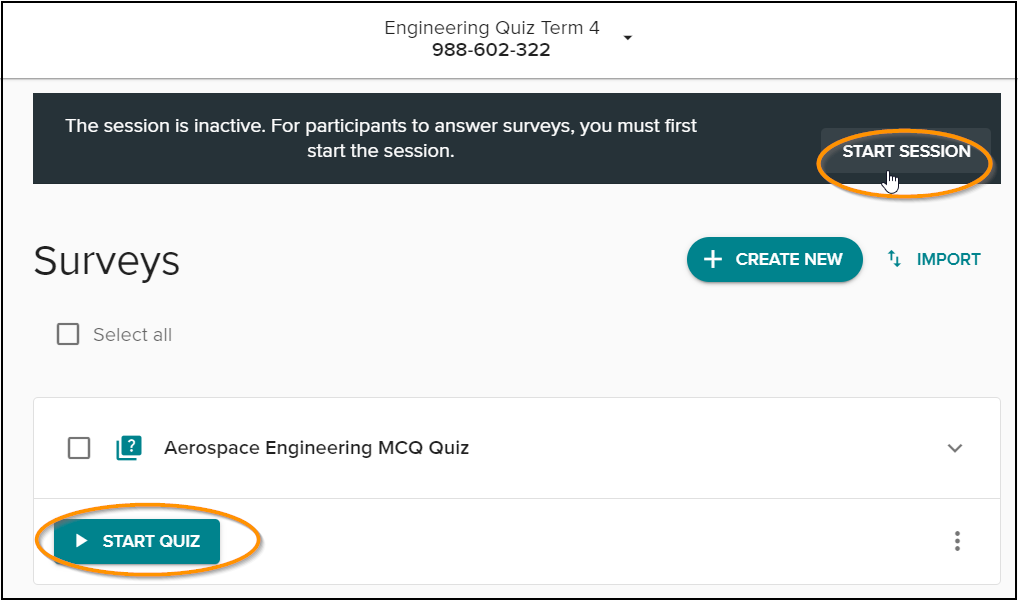 When the allotted time has lapsed ensure you stop your quiz again. No more results will be taken in.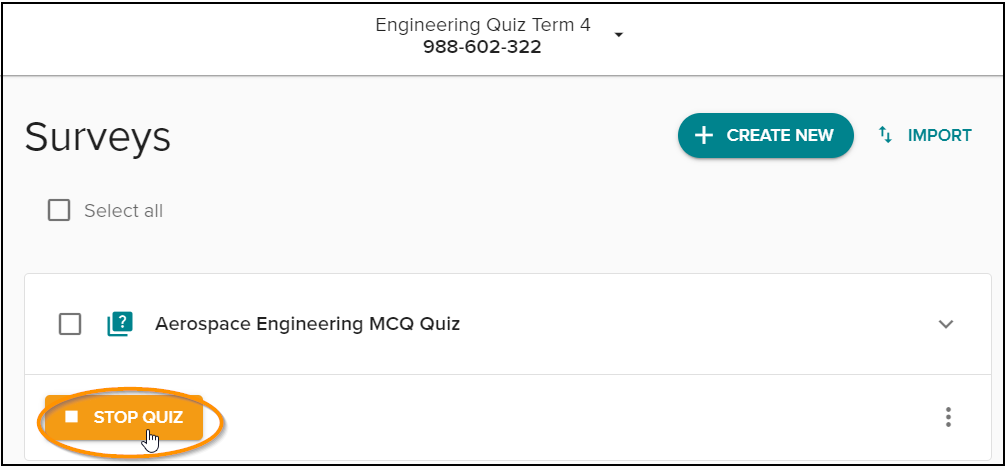 Self-paced quiz scoring
Once your participants have confirmed that they have submitted their answers at the end of the quiz, they will see their individual score. It will indicate:
their score,
total number of responses submitted
and have a link to look at the answers to see correct answer explanations and where they went wrong. By clicking on the 'Individual questions' they will be taken through the whole quiz, see what their responses were to each question, as well as a correct answer explanation (if it was set up).
From this example, you can see that this student got 4 questions right out of 6 questions that were scored. But submitted 8 responses in total. That indicates that 2 of the questions in the self-paced quiz did not count towards any scores.
The Individual questions link will take the student to each question, indicating:
if the student got it right or wrong
What the correct answer is
And a correct answer explanation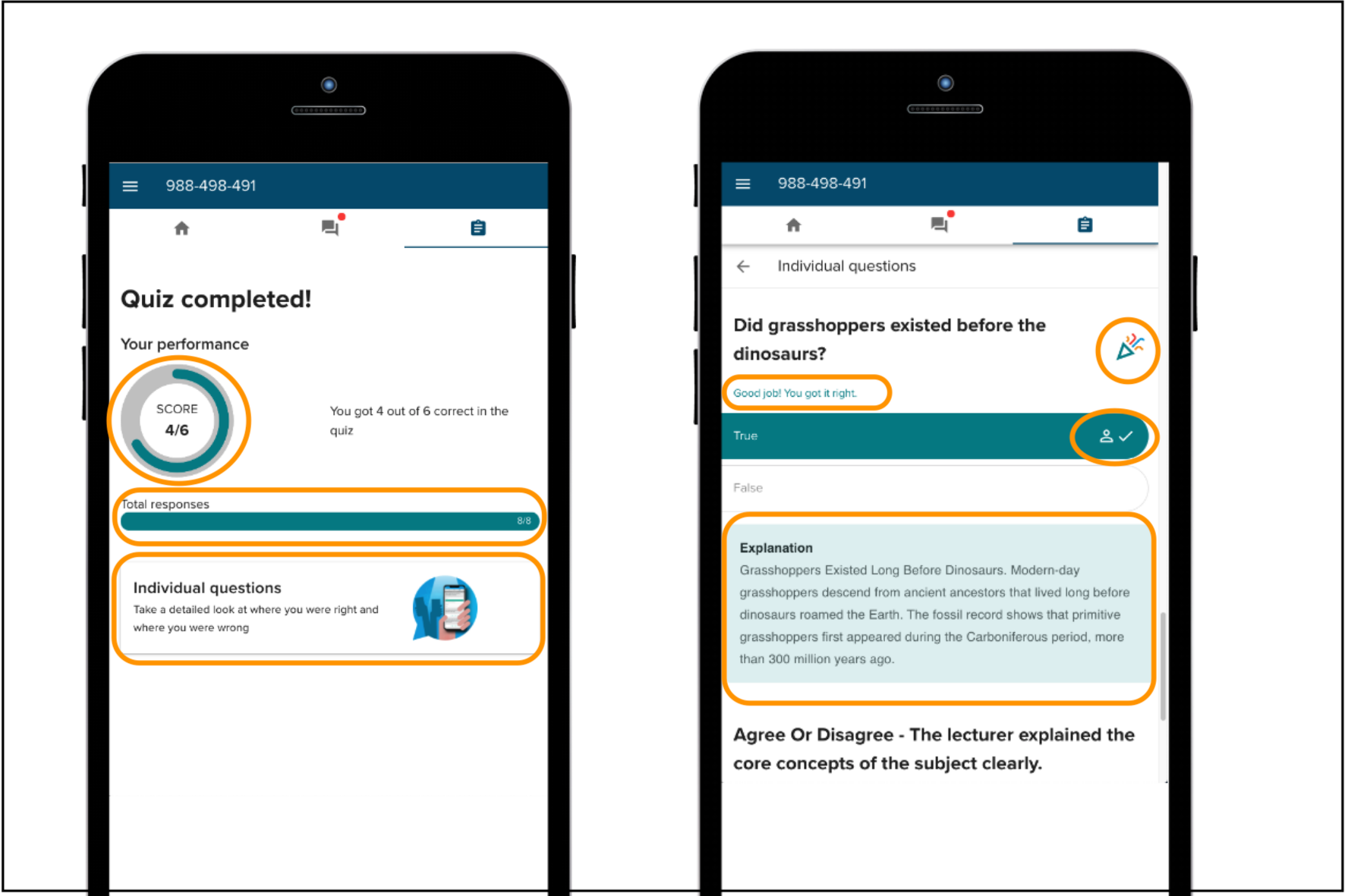 As a session host you can still access all the participant scores by downloading the session data report. Remember to look at the 'Survey tab' at the bottom to get your results in the data report as well in the Excel sheet.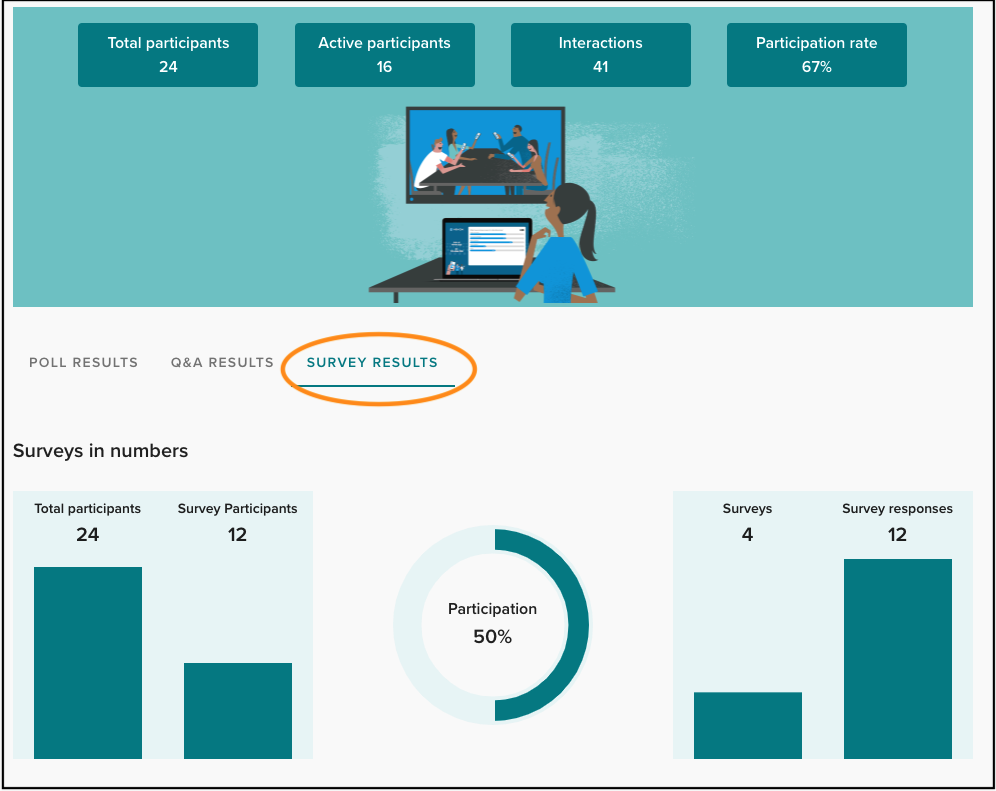 In the data report look at the:
Survey Summary

 - see a summary result of each question in each self-paced quiz.

 

Survey Results

 - see a detailed breakdown of how each participant voted on each self-paced question.

Red will indicate that the student got the question wrong, green will indicated that they got it right. (The columns without any color coding are for questions without any right or wrong answers.)
The report you generate will differ slightly depending on whether you have chosen to have Identification set to 'Identified' or 'Anonymous' for your session.  When it is set to 'Anonymous', all participant names will appear as 'Anonymous'. 
Look for the total answers correct column to identify your winners and runners up.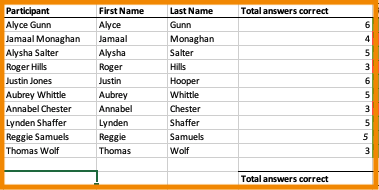 Creating multiple self-paced quizzes
When you want to create multiple self-paced quizzes, follow the steps above. The quiz will then be listed as a separate quiz and appear below the previously set up self-paced quizzes. 
All self-paced quizzes in the same session card will use the same 9-digit Session ID, but only one can be 'Started' and answered at a time. To run concurrent self-paced quizzes, upgrade to an Enterprise plan for Business or a Pro/Institution plan for Education.